Online Course, Bundle and Download Hosting with Podia!
Would you like to see what online course hosting service I have settled for after having used a bunch of others because this may be useful for you if you want to host not only your online courses, but also bundles and downloads?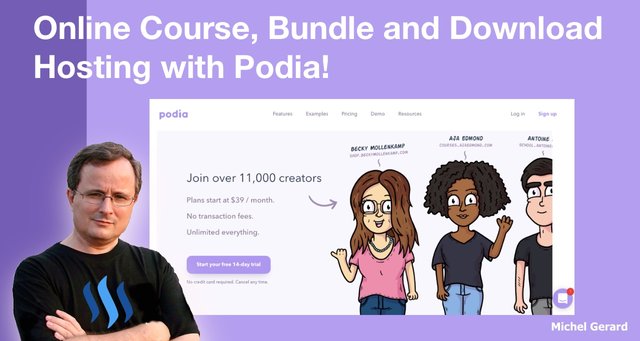 I have been looking for a solution to host my video courses as well as courses by others who I have partnered with and that I can resell. I am working with a couple of friends who teach online and they use platforms like Thinkific, Teachable, Udemy and Skillshare.
I myself have my 4 courses on Skillshare here: http://pantika.us/skillshare
By the way, you can use the link above to get Skillshare Premium free for 2 months.
Unfortunately, you don't control anything with your courses on Udemy or Skillshare, even the price, so it's why I researched several platforms and settled for the one I am going to show you in this post.
All the links to Podia or other websites in this post are affiliate links and I may get a small commission if you purchase their service through my links, at no additional cost to you, but additional help you can get from me.
Online Course, Bundle and Download Hosting with Podia!
I have been managing my friends' online courses on many different platforms such as Thinkific, Teachable, Udemy and Skillshare, uploading content, making landing pages, etcetera, and that's why I can give you my honest review about Podia, which is the platform I signed up for.
You can visit Podia here: http://pantika.us/podia
The first advantage of using Podia is its lower cost compared to Teachable and Thinkific. With the Mover plan, which is $39 per month you have unlimited content and no transaction fees taken away by Podia.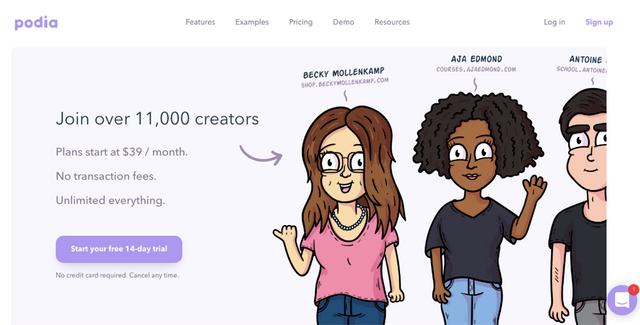 The monthly cost is very reasonable considering that you can connect to your PayPal account to receive payments directly, with no Podia fees, and you can create coupons.
This is what sold me on this platform after going for the free trial and just buying 4 days later after uploading my first course because that was so easy and pleasant.
I am not using every feature yet, but I am going to show you what I have experienced uploading 15 courses.
Back office
This is what you see in your back office when you want to upload a course there.
In the "Content" section, you can add files, add a link, add text or add a section.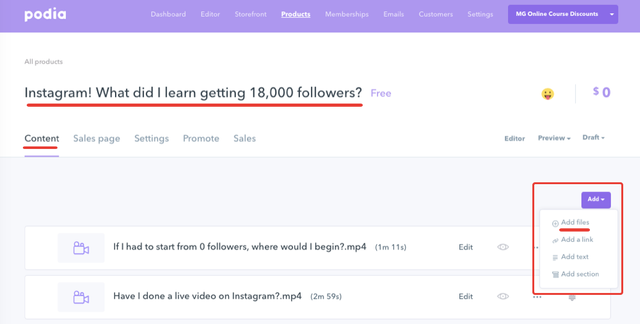 If you choose to add files, this is where you can upload them. Just drag and drop them and they will upload 3 at a time, the others being in the queue.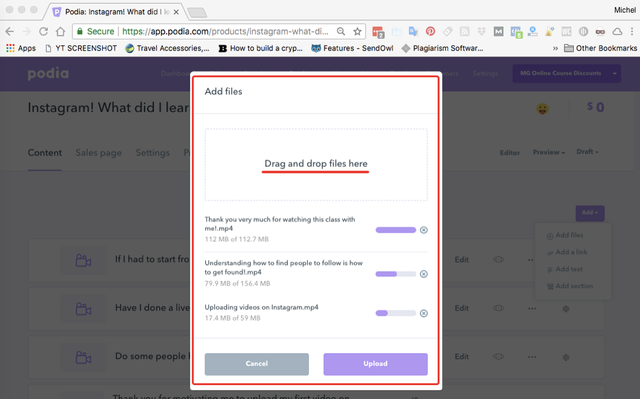 There you can see videos I have uploaded in a section and you can edit the title, mark them as preview and move them around very easily. You can also add thumbnails for your videos.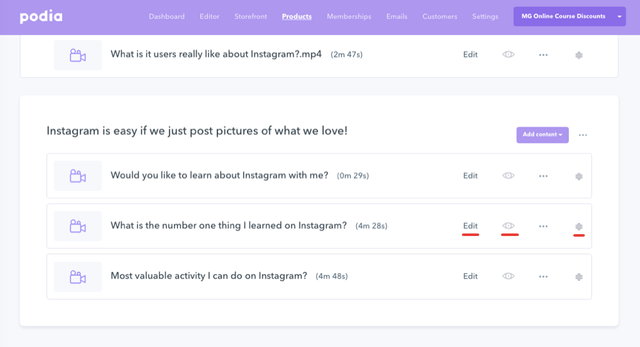 If you choose to edit, you can change your title and add a description if you wish.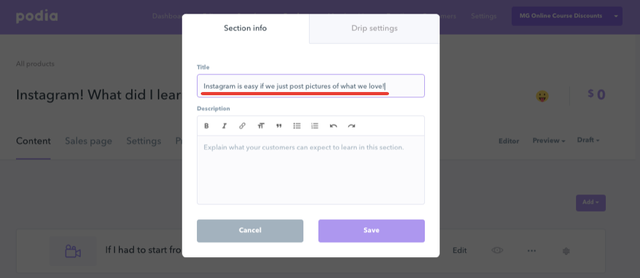 Then you have the "Sales page," where you have your "Headline" and "Cover photo."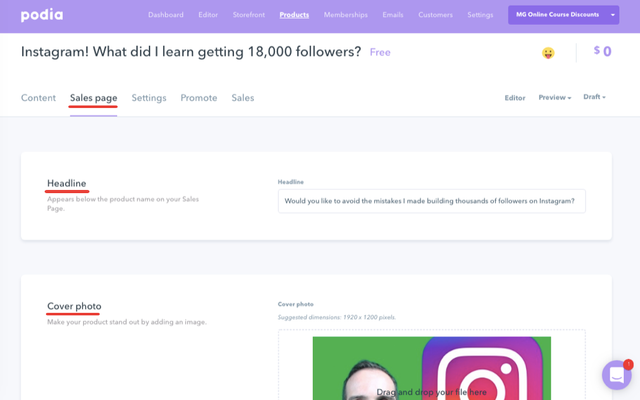 You can also add an Intro video, a "Thank you" video and FAQs, which I didn't do.
Then, you have the "Settings" section where you give a name and a description for your course. You can edit the URL to what you want from the auto-generated one.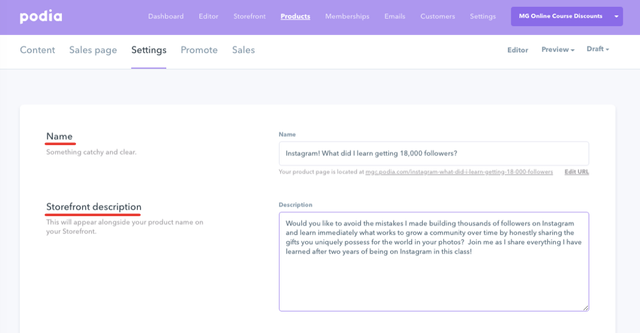 On the same page, you can set up the price of your course and your coupons.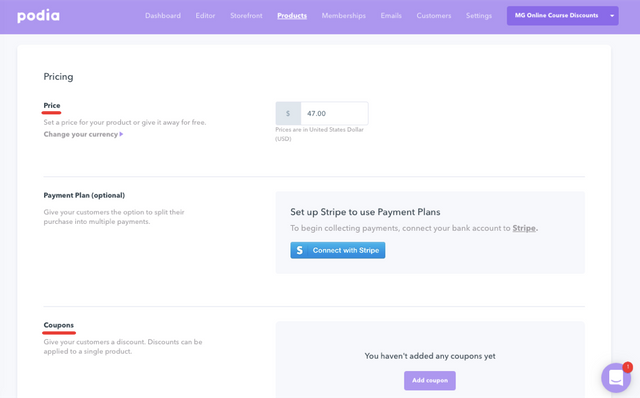 You can set the coupon codes as you want, Normal, Timed or Limited.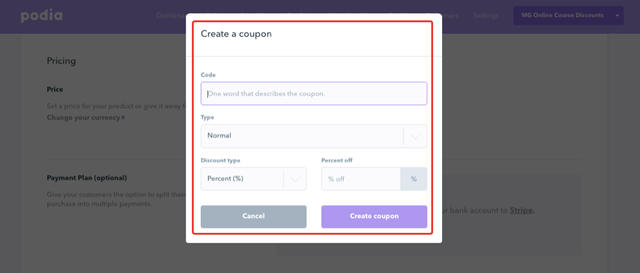 Finally, you have an "Editor" where you can add sections for the Sales page.
This is also very easy to use.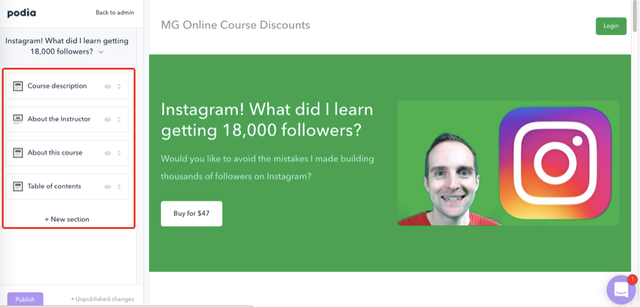 That was for adding online courses to Podia, but you can also have bundles like the one I made for all my courses.

Very easy to do, just select the products/courses you want in the bundle and go through the settings and sales page the same as for an online course.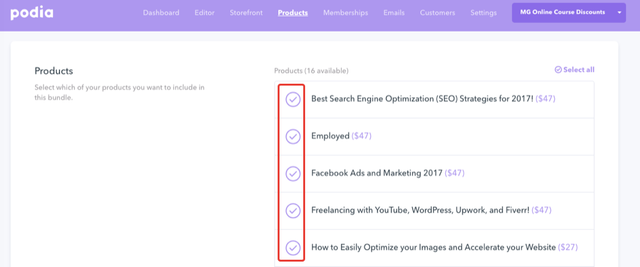 Finally, you can have digital downloads and this is an option that no other platforms have. I haven't set up anything yet, but I will certainly sell my ebooks that are currently on Amazon Kindle.

All you have to do is add your files, set the sales page and settings like for the online courses and you are done.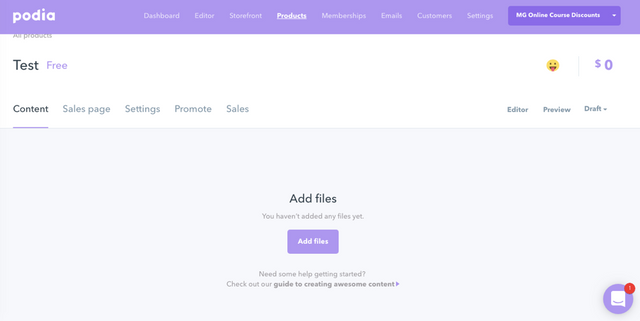 In the Mover plan, you can also set up your own domain name for your storefront and have "Email Marketing" integrated. You can also use Stripe as your payment methods. That's a lot of features at that low price.
This is the easiest and cheapest platform I have used for hosting online courses and I love it. Proof is that I already uploaded 15 courses while I did one course on another platform a year ago and I was not motivated to go further.
The Shaker plan is $79 per month and you will have the Memberships and Affiliates features integrated. They will also move all your courses from another platform if you buy the Shaker plan. Users report that it is the easiest way to create a membership site and I believe them.
StoreFront
This is how your courses will show on the front end.
Go here to see my full storefront: https://mgc.podia.com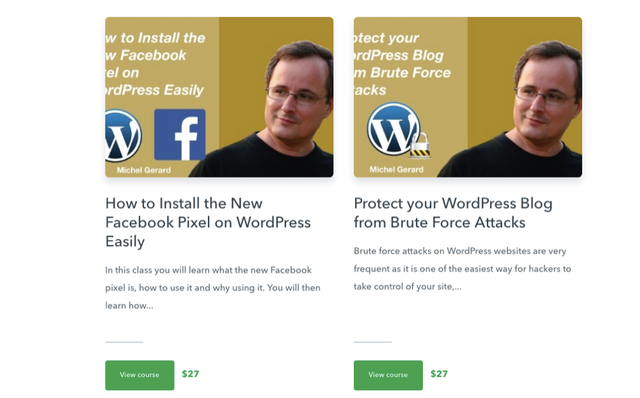 At the bottom of the page, you can also collect emails and build your list.

This is a sales page, which is great on desktop and mobile.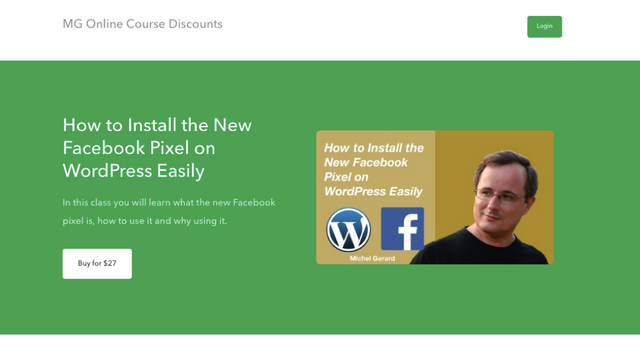 When you click "Buy," this is what you have and I think it's beautiful. After someone entered their email, they are then on their way to enter a coupon code, if any, and are directed to PayPal to complete their purchase.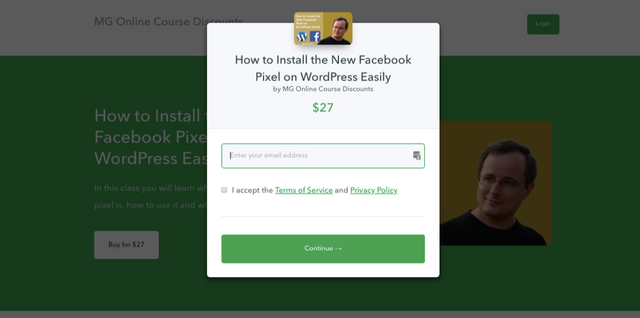 Then, the user can access their purchase in their own back office where all courses, bundles and downloads they have purchased will show up. They will have the possibility to buy more products from there directly too.
This was my overview of Podia, and also my enthusiastic review because this is a beautiful platform, which is easy to use, affordable, and that motivated me to upload all these courses.
The next step will be to make sales and you can help today.
There is one Free course that you can take on my website: https://mgc.podia.com
For the others, use coupon code "ONLY-9" at checkout and you will only pay $9.
I hope this post is useful for you and that you will give Podia a try if you are looking for hosting your video courses.
Would you upvote this post and follow me for more because this will encourage me to write more posts like this one?
I have categorized my posts on Steemit for easy access:
Steemit tools | Steemit strategies | Steem economics | Steem on WordPress | Blogging on Steemit | Steemit posts I curated | Cryptocurrency | Cryptocurrency trading | Mac computer tutorials | WordPress & online marketing | Self-development & motivation | Travel in Thailand | Travel in Japan | Travel in Europe | Life in Thailand | Fitness challenge | Fruit-veggie juices & smoothies | Education | My answers on Quora | Fundition tutorials & projects | Miscellaneous writing
You may prefer to go to my Steemit Posts Directory.
The most important votes you can make on Steem are for Witnesses. The top 20 witnesses can influence the addition or removal of features in future Steem hard forks. Read my post: What is a Steem Witness, How to Vote and Why?
Michel Gerard