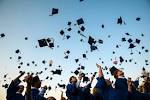 I am often tempted to wonder if school was a waste if time or to add to status quo.
I don't think I hate or regret school, but what I regret was using school as an excuse to achieving my dreams as early as I should.
Classes, assignments, tests, exams and treats from same of the untrained teachers were my most realistic form of existence. I think this forced my dreams to sleep.
My parents hoped and imagined I would be great. That's why they made me toil through that stress to bag a B.sc or a B.tech as the case may be. At least to stand in the mammoth of graduands.
It was not just for school purpose but to be able to make a 1st class or worst case a 2.1.
You see those two categories of result, they could choke and delay dreams.
I was bemused, I couldn't find a way, even with the genius grades. Then I was left asunder and derailed of energy.
Another disappointment, I might not have fed well as an undergraduate but my trainings ran over a million naira. 'What?' Even at that, the certificate is as worthless as anything when I am not around. I can't pass it on and it is static and never improving. This was what so many looked impoverished to get, a lot did the undone and some other 'quit' like that guy from '3 Idiots'. It never added any thing tangible. I wept, just like Christ did.
I frantically hoped and searched for either of the two grades. Why? To be gainfully employed. In who's company? Damn! I don't know?
I wish those results could give me the answer.
Another thing those grades could do, ego. I am too big for this job and this mehn! I need over a 6 figure pay.
Visions and the true dreams maybe crude and never found under the ac. These results may shut your eyes towards that, only for you to have wasted some years under disease infested ac. Have you asked or checked 'the world most celebrated employee'?
Internship gave me another approach to life, I saw people without certificate doing things and fulfilling purpose. I began to feel I have wasted years. Counter to the opinion of some of my lecturers.
I had to change approach.
When you begin to fulfil purpose, people care less on your academic status. After all, I am yet to brace up with our president's Alma Marta. Often asked questions would be "where does she/he work?" Who's child is that?" No one has time to know how many certifications you have.
Why not do something today that is you and not others. You may think you are worth too much but only get a job worth 40k, you would discover you had more worth as an undergraduate either than the acclaimed working class. Certificate may blind you to this fact.
Find your purpose and follow. It would take time to build, but it would be shorter than what you imagined. Rather than ridiculing your years trying to gather under another man's sacrifice. Know it that, 'a tree can never grow under a tree'.
Dear school, all thanks to you because you gave me the opportunity to meet some great minds. That was the most valuable asset you left.
Discover purpose, then watch money follow.