Hello all,
This is a challenging part to share an update and promote school-related contents with everyone. But I would like to give some time to make sure you all get the update on LinkedIn if you are following @SchooForSDG4. It will also help us to promote steemit out of the platform I believe. A lot of steemians I know are active on LinkedIn and they are promoting steemit almost every day. @stephenkendal and @scottcbusiness are more active with steem promotion and I often find their post.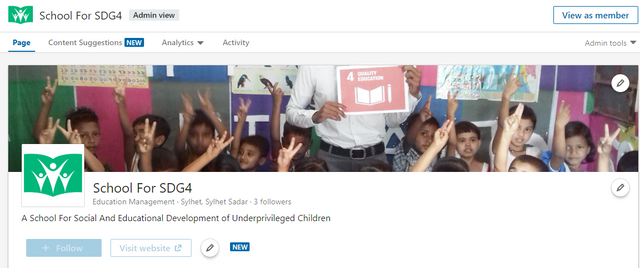 I would like to get a neutral platform to share school contents and it will link people with a different platform. @SchoolForSDG4 already have twitter, Facebook and instagram profile to stay in touch with followers. Now I would like to Add our new LinkedIn Page which I think will be more active than any other mainstream social media platforms.
As @SchoolForSDG4 not only blogging on steemit and whaleshares now, So I think it can be a problem to identify if the blog if real or not. A few days ago @siamcat was asking to verify our account on Weku. Due to cross-posting, sometimes supporters may skip the school update. So I think LinkedIn will help to get in touch and remind our donors that we still need you.
Alike @fundition, I believe that not only the post rewards, we should also attract potential donors out of the platforms. And the articles, post, and update of our post can be great evidence to convince a real donor. Last month, I shared a post on weku which helped me to reach @richq11 and he decided to donate 50 Steem for School. I would like to share school related post so it can manage more direct donation than just port rewards.
It will be very appreciated if you follow us on LinkedIn. With this, you will get more often news related to school and get a chance to involve.
N.B: By upvoting this post you are supporting me @Azizbd personally, not my charity @SchoolForSDG4
Please contact me @Azizbd for any information azizbd#2850 on discord.
---
Adsactly is a Autonomous Decentralized Society Acting Cooperatively to Leverage You.
|| Twitter || Discord || Steemit ||
---