Easily decorate the folder for the closure of our children's project
Hello friends Steemains! Today I want to show you how to decorate a school folder in an easy, simple and very economical way, together with the youngest of the house, all motivation It leads to a great achievement, and the little ones will thank you.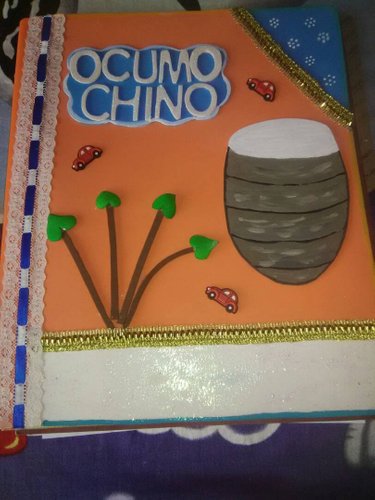 USED MATERIALS


✳Foamis orange, white, blue, green
✳Scissors
✳Recycled brown folder
✳Silicone
✳Cold paints Orange, brown, white blue
✳Embroidery and lace
✳Graphite pencil

1st STEP


Choose the colors and shapes with which you will work, there is a wide variety of materials with which you can decorate, for me the easiest and most economical in these times was the foami.

---

2nd STEP


Cut the foami in the shape you want, for this folder cut 3 cm in the bottom and 7 cm in the top left, to put another color of foami.

---

3rd STEP


Paste the foami in the recycled folder, on both sides.
At the bottom of the folder paste the white foami and the blue foami on the top left.
Cut the spine to the folder to the desired size and paste it
Stick the embroidery.

---

4th STEP

Paint the inside of the blue folder, and make a support with the foami to introduce the work, it is optional you can decorate it with precious stones or other accessories that are within your reach.

---

5th STEP


The project driven towards agriculture and its importance, the vegetable that was assigned to my son was the Chinese Ocumo, so I painted it and stuck it to the cover of the folder.

---

Many children love to work with crafts, this entertains and entertains them, there are so many reasons that can be done, it is very important to leave it to your imagination and motivation, creativity is fundamental in the progress and social welfare of the youngest of home.

Thank you all I hope you like it, and motivate them to decorate your notebooks, books, notebooks and folders to your child, as it is a very easy and fun way.