Before I start Id like to say that i was brought up eating meat and only meat.. i barely ate a vegetable or fruit until I was 21 years old when I visited India for the first time and decided to not eat meat during that 5 month journey as i was told its easy to get ill.. It was quite liberating to learn how tasty vegetables could be when cooked with some good spices! After that I was a 100% vegetarian for a few years, and today I eat meat about once a month or so. I am also MOSTLY vegan and eat dairy fairly rarely, usually involving a pizza like I did today for lunch. OK so with that out of the way here we go!
I would like to being by asking a question! If you were walking down the street and saw someone beating a poor defenceless puppy to an inch of its life, would you be justified in stopping them? Is that any of your business? Well I sure would and YES i would MAKE it my business! So as far as I am concerned, people who make an issue or speak up in defence of animals are likewise quite justified in doing what they can to protect animals from our ever increasing global population meat demand.
Last week there was an event that happened in Brighton UK, where a group of protesters went into a steakhouse and played the sounds of animals being slaughtered and showed pretty disturbing images for a good half an hour. Needless to say it didn't go down to well, and most meat eating guests were fairly cheesed off! One one hand i have to say that is not cool, and I don't think i would ever do that, but on the other hand I think they are hero's and am proud of them for doing what they feel they need to do to stand up for the rights of animals who have no voice or ability to stop the cruelty and travesty that is mass farming today. If we don't speak up for them then who will? Serious issues can require drastic action, and the state of our animal farming today is something that surely requires some kind of action. Once you have seen or learned of the truth behind mass animal farming you may start to understand why they do this.
With that said, the question this week is not whether Vegans are justified in their actions and words but rather why people hate them so much for trying to speak out at all, and indeed why it upsets meat and dairy eating folk so much. From what I can see, vegans get a VERY poor reception despite the fact that they are basically against murder and torture which really isn't such a bad thing is it?
SO why!? What is going on here? Well here is what I think!
Carnal Desire
We are also animals, let us not forget, and we have carnal desires just like any other animal. Those of us who eat meat simply do NOT want to give it up. It is a part of our natural instinct (for many of us) and the notion of giving it up is one that produces great resistance. When we challenge our most primal needs that is the result, it is that simple! People generally do not WANT to know quite how bad it actually is for animals,, out of sight .. out of mind.. It's very easy to be totally disconnected from what actually happens when we buy perfect clean looking meat from a supermarket. SO since most meat eaters don't even know what really goes on behind the scenes they get even more upset at opposition to their dietary habits. I am sure that if those people who really do hate vegans were to ACTUALLY go and see a large scale farming operation they would most likely change their tune.. and at the VERY least would only buy and eat free range organic ethical meat.
Sadly there is not enough land or resources to let everyone eat organic free range meat, there are just too many of us! SO animal farming is a sad but necessary compromise that has just happened without any care of compassion toward the entire lives of the animals concerned. This situation is one that will not change until one of two things happen. One is that we could easily eat meat in just half of our meals, thereby reducing the demand on animals by half! That would be an improvement, but not a real solution. The only REAL solution is for us to migrate to laboratory grown meat or meat alternatives. This solution is on the way, and i very much look forward to the day when anyone can chow down on a juicy bloody lab grown steak truly guilt free.
The dairy addiction
Dairy is a slightly different issue.. one based on addiction to powerful chemicals such as opiates that are contained in dairy products. As far as I'm concerned cheese and dairy is a drug, and most of the world is addicted to it. Its very obvious in our relationship to it, and how we crave cheese and devour it. Put cheese or butter on just about anything and most people are very satisfied and content. If you didn't know, that is the simple truth about dairy and why people get so upset at the thought of not being able to have it. Once you give up dairy for long enough and then have a glass of milk, you suddenly notice how horrible is smells and tastes. Once you have gotten off the drug you can start to see it for what it is. When i eat dairy these days I do it with an awareness that Im doing it to feel good because im basically eating a concoction of drugs. That awareness is one that is good to have and can help us make more informed decisions about when and how often we eat it. NO matter what anyone says, I know dairy is not good for me and i can get more calcium in a bowl of hummus and tahini than i can from a glass of milk!
So, if you are a vegan hater then maybe i can inspire you to tone it down a bit. Like i say, why would you hate someone for doing what they can to protect other sentient beings.. even if it means challenging you on it. We are all free to make our own decisions and choices, and that should always be the case.. but we should always make those decisions from an informed place of truth! If you KNOW what is actually going on and you STILL decide to eat mass farmed shitty meat instead of free range then that is your own choice, but most vegan activists are here to at the very least make sure you know the facts.
SO, if you hate vegans and would be quite happy to see them used as animal feed then I would like to ask you this.. DO you buy free range eggs, or would you prefer to condemn a trillion chickens to a lifetime of torture so you can save $1? DO you buy the cheapest bacon you can get? When you buy meat do you even consider why some is so cheap? Well if you have never thought about this before I would like to invite you TODAY to at the very least reconsider! The next time you go shopping and grab that cheap meat, put it back and look for the good stuff instead. At least then you will have afforded the animal that died for you a dignified life.
The time for denial has passed! The meat industry is fucked up, and in the worst possible ways. People are eating horse meat not even knowing that it has been mixed into what they thought was beef. This is because there are too many of us eating meat! There is already not enough to go around, and unless SOMEONE does something about it, things are just going to get worse. If you eat meat with EVERY meal then why not try eating three meals a week without any meat. It's really not that hard! Meat does NOT taste that good folks! That is why we have to season it like mad and cover it in sauces and gravies to make it taste better. Vegetables and spices taste amazing when cooked properly, and if you take the time to find this out you will see! Please go and find a local vegetarian restaurant and find our for yourself!
Please stop the hate, and open your eyes to the truth. Animals are people too folks! ;-)

Supporting People Who Help
Make The World A Better Place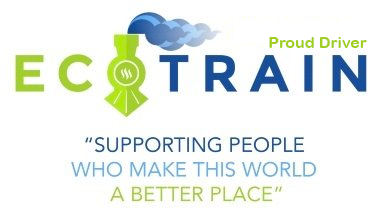 Discover previous ecoTrain magazines at @ecoTrain
If you are new to Steemit, love to write, and would like to join the ecoTrain community as an official passenger please email me on steemit.eco.train@gmail.com