It is the ultimate gift to totally explore and fully indulge in something to the exclusion of all else. We gift that focus to our lovers, our babies, great books, anticipated movies and peak experiences we deem "worthy". But it is more than a gift - it is the natural medicine of mindfulness, of allowing all our senses to be completely satiated by removing and blocking all the distraction and competing energies. In that space we are regenerated on more than just the physical level, by an esoteric special something that is somehow more than the sum of its sensory parts.
But that committed, single focus is something we almost never give to one fruit, to one specific food. We blend, pair, co-ordinate, cook, prepare and contrive the most complicated tastes and combinations. The more unusual and exotic and unlikely the better, it sometimes seems. Occasionally we might commit to a detox phase that consists of only one food, with watermelon or dark purple grapes being probably the most common. But it's rare that one sits down joyfully to a huge mountain of only carrots for a full meal, or tomatoes, or only cabbage. One maybe fantasizes about sitting down to an enormous bowl of plump dark sweet cherries :) - at least here in Thailand we do, where one needs a small mortgage for a punnet of imported cherries.
My personal exploration of indulgence of one pure taste came about quite by accident, really. A busy school-holiday entrepreneurial-mama kinda day. Needing to ramp up my regular vitamin C inputs as part of my current Bone Health Reset 6.2.0 commitment, I asked my 14 year old daughter @nabithecat to cut open the pomelo which had been languishing on the fruitbowl.
"Let's just have some now, before lunch. As an appetizer." What's a pomelo? Think an over-sized South East Asian grapefruit, with a really amazing complex taste and none of the bitterness. In Thai, we call it Som-O. ส้มโอ. Arguably the gentlest and most elegant of the citrus tastes.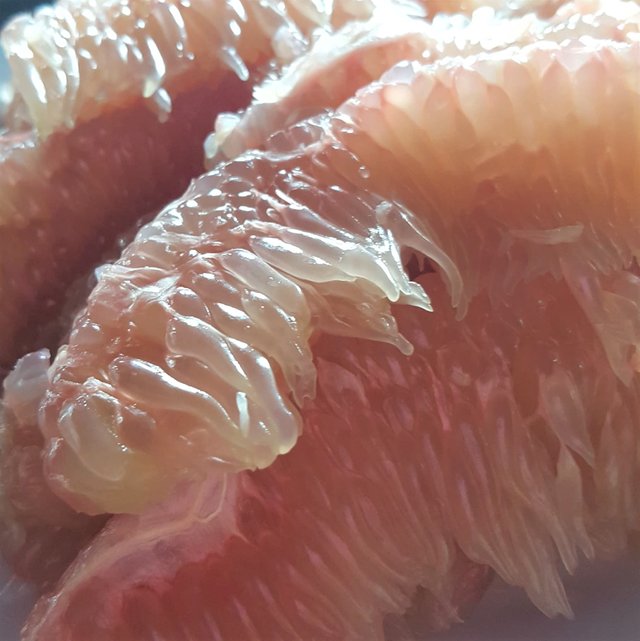 Now see normally in Thailand, even in the markets, the vendors clean and prepare the pomelo FOR you, as it is QUITE the job and takes a while. Being not a fan of polystyrene trays, cut fruit that has been handled by unwashed hands and never really quite knowing how long it has been out in the tropical heat, my preference is always to buy a whole pomelo. They weigh in at several kilograms usually, and often are almost the size of a small basketball. When they are in season, they are absurdly cheap, so my eternally-optimistic self buys a few and then they languish, as the reality of cleaning and preparing them is a little daunting.
"Every Thai girl needs to know how to clean a pomelo!" I said laughingly, as Miss Ploi wailed that she had NO IDEA where to start.
First, slice of each end.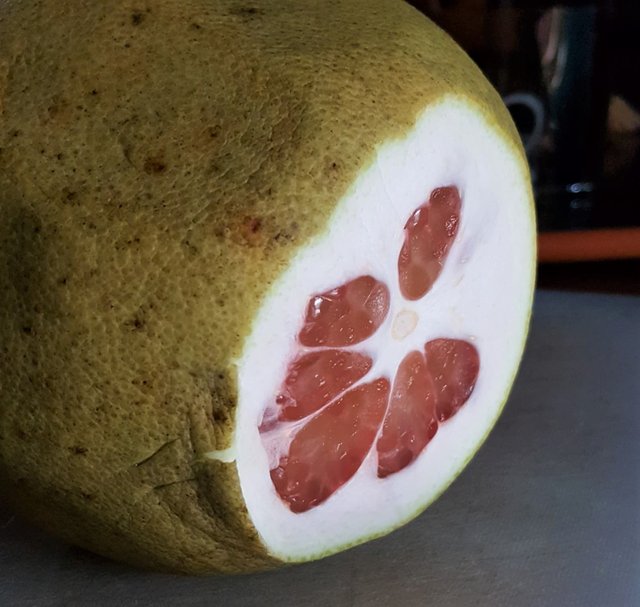 And at this point we both sort-of squealed with delight.
"It's a PINK ONE!" The proverbial needle in the haystack.
Usually pomelo is a pale grapefruit-yellow with maybe a TINY hint of pink. But this one was ripe, perfect, luscious, dripping and thoroughly PINK.
And so Miss Ploi cleaned.
First cut off the outer peel with a sharp knife.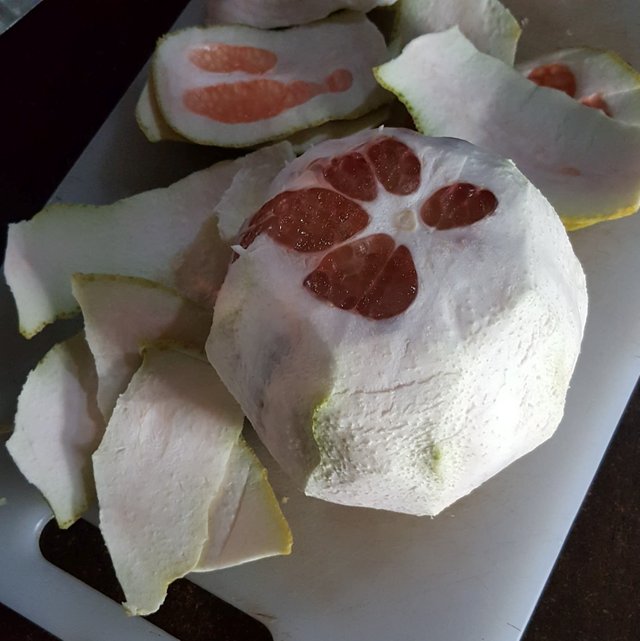 Then pull the very think layer of bitter pith off with your hands. Thai people, never liking to waste food and many remembering hunger as a very real thing in their lifetime, preserve the pith in super-sweet syrup for snacking on another time. Us? Compost.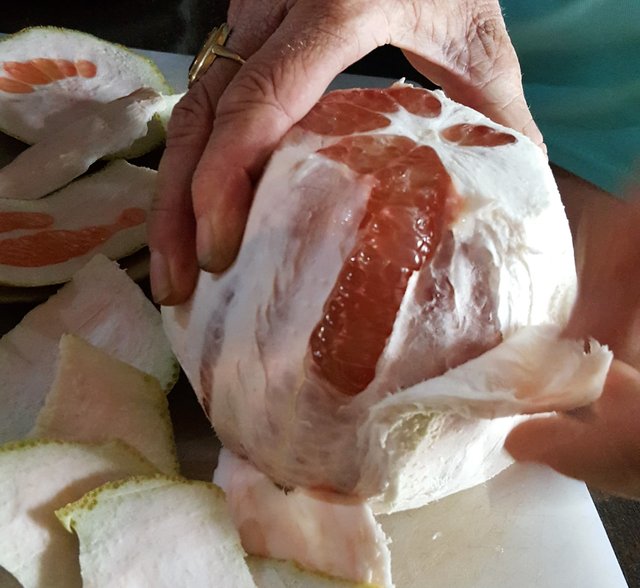 Then tidy off the last bits of pith with a sharp small fruit knife, until you have an amazing dripping ball of deliciousness in your hands.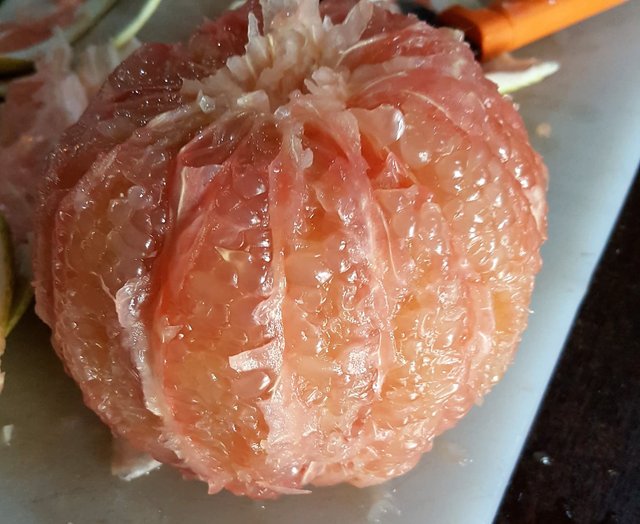 The membranes which separate the segments are tough, so carefully slit across the top of each segment to remove the membrane and the seeds. What's left is pure cleansing, delicious fresh pomelo.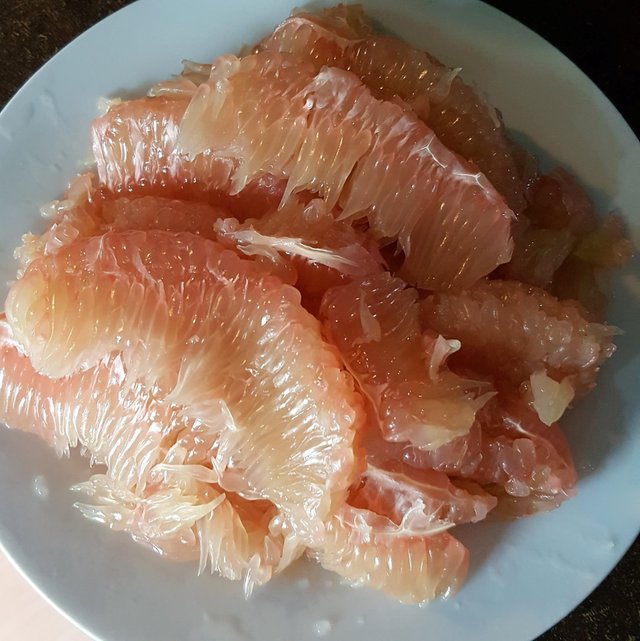 "Wow mama, we DID it!! And there's SOOOO MUCH OF IT! I know, let's have ALL of this INSTEAD of lunch. Just pomelo and nothing else!" And so we did.
And thus our single-taste-sensation experience for a full meal came about. Truly magnificent. We ate, slurped, licked, gorged and ENJOYED that pomelo. Fully and to the exclusion of all else. After decades of eating pomelo mindlessly at street markets, on the side with something else or (usually) in the truck while driving, I finally felt like I had fully TASTED it. Savoured it. Given it my full attention.
There is sooooo much more to say about perfect pomelos, spicy pomelo salads and all the amazing things pomelo gives to and does for your body. But that would DISTRACT from the moment and the experience of pure indulgence, satiation, delight, and unadulterated pure taste. All of which was pure, natural medicine to my soul.
Savour THIS moment. THIS kiss. THIS taste. Mindfully. Joyfully. To the exclusion of all else.
BlissednBlessed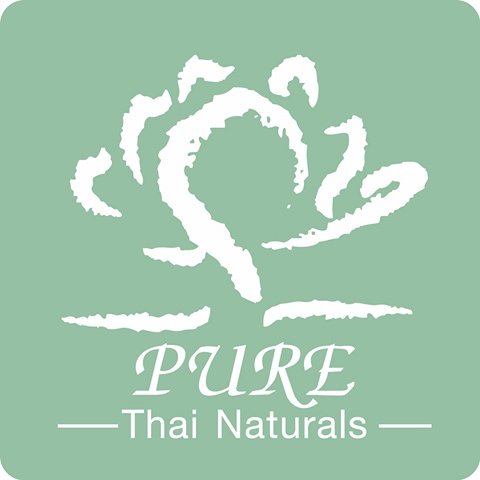 Pure Thai Naturals
@ecoTrain
Eco-Green-Sustainable content on Steemit

Supporting People Who Help Make The World A Better Place
Discover previous ecoTrain magazines at @ecoTrain or read more here: https://steemit.com/steemit/@ecotrain/what-is-the-ecotrain-in-a-nut-shell If you are new to Steemit, love to write, and would like to join the ecoTrain community as an official passenger, please email to steemit.eco.train@gmail.com


Proud member of the SMG – supporting quality steem content & cutting edge community initiatives on the blockchain. You can find us on discord

Grateful for the curation and support of @tribesteemup

Proudly contributing to @naturalmedicine

A member of the new @freedomtribe