The Gig Economy
I've read a couple good articles on the gig economy that reminded me a lot of my past situation. Luckily for me, I've mostly transitioned away from the gig economy but my future prosperity hinges a lot on what the price of bitcoin does, how well I manage my money and what kinds of expenses come up.
If your wondering what the gig economy is about and some of the issues surrounding it, I recommend reading: The Online Gig Economy's 'Race to the Bottom'

In a nutshell, places like Fiverr are really lowering the cost of labor for high quality workers who can do many types of work online and this is making it hard for people, particularly in richer countries to get paid enough for their labor.
I've tried doing jobs on the online labor platforms myself. At first they are very appealing because you can work you own hours and do specialized work that you like. I found myself constantly bidding on jobs though and not getting them unless they were priced very low and I was working very long hours without much return.
About the time I was getting really tired of getting constant, "Your priced too high" comments, my investments started doing better so I quit doing that kind of work.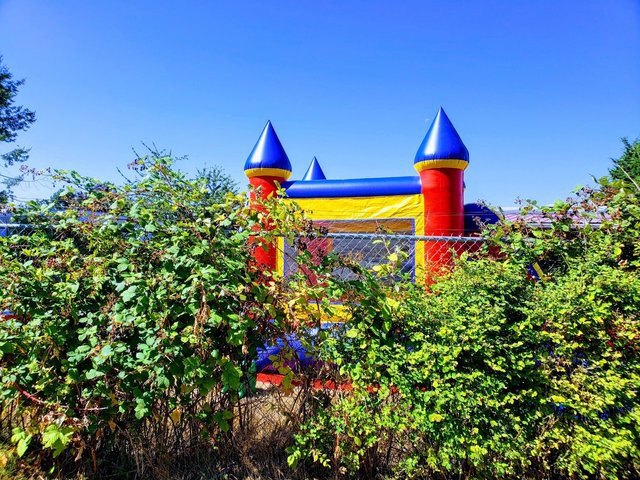 A bounce house that caught my eye when walking the dog, check out the moon above the right castle turret. The sounds of merry music and sizzling food were around it. – click for viewing full screen
Death by Gig Work
Unfortunately not everyone has the same options as I do and some people have gotten seriously injured or killed doing gig work. See: The Death of a Gig Worker
Being an avid bicyclist I really feel for this person who was killed by a big SUV. Having to ride your bike in the rain is very dangerous. If you don't have any options about when you ride, it makes things much worse. It is bad that most of these people do not have any insurance.
Actually, I don't think we will need to deliver food by bicycle much longer. It could be a dead end job particularly in richer countries. I'm expecting to see some self driving autonomous electric powered food delivery wagons at some point in the near future.
In the mean time it is really unfortunate that some people do not have good work and have to do such things to get by.
The main issue with the gig economy that I see is that, as people are willing to work for lower wages, certain individuals that are very good at what they do can end up with most of the work. The rest of the people could get to the point where they cannot purchase their basic needs because businesses will not need to hire so many people if they can get the work done cheaply.
If nobody can afford such basic staples as food there is less incentive to produce food. We could end up in a situation where farms are not planted and machines are idle because the cash is drained away from the main street economy by businesses and investors making massive profits at the expense of cheap labor.
It seems like as individuals we need to at least in part become our own business and investor. With crypto we can start becoming our own bank and begin to make our efforts work more for us.
Steemit as a Gig
I've been wondering if Steemit could fill in some of the need that the gig economy fits. At this point with the price of steem so low it seems like it is not paying very well. Additionally, there has historically been some rather odd 'social' issues and flag wars that kind of remind me of a "Days of Our Lives" type soap opera, lol. However, I think there is a tremendous long term upside potential. But if you need five bucks to pay your bills right now, who's to say if you are better off just selling your time on a job shop board.
My gut feel is that most people will be better off in the long run if they spend at least some of their time and effort in some sort of investment mix. The younger generation seems to favor crypto and should be moving some investments into it. I believe that the move to favoring investing and saving is a current trend that will become more important in a global economy where peoples skills are being sold at lower and lower prices. Steemit does give the opportunity to invest in something just by blogging.
Often people describe steem as inflating at around ten percent as the rewards are given out and the amount of coins grows. I don't see it as being inflation in the same way we normally think of it. In fact most coins like this seem to be kind of deflationary because people like to hold onto them if they were early adopters and can see potential growth. I believe part of bitcoins success is from early adopters who hold on to the coins and help drive the market price up by drying up the supply and buying the dips.
It's anyone's guess what the best mix of investments will be. It seems like bitcoin tends to go up in value in the fall so maybe we will see a bit of a rally. Steem could follow along in price and might even go up in value relative to bitcoin. That's my guess but it is certainly not investment advice. What do you think will happen to the price of steem over next few months?
---
Thanks for reading! I always value your support and comments. The pictures were taken by me with my Galaxy S9+.