On trade wars...
If you live in the US you can probably read about this issue almost daily. Basically Trump believes that buying cheap goods from China hurts US economy. He thinks that China is "stealing" jobs since they manufacture most of the items we use in our daily lives. 
I wish things were that simple, the reality is much complex than that. It is true that many items are not manufactured in the US anymore, but it is also true that most people in US are now working in the service sector, which usually offers higher paying jobs. Because China manufactures cheap goods for us they help maintain our inflation low and keep contained our costs of living. Would you like to know what would happen if all these "lost manufacturing jobs" would come back in the US? Just look at things that rely on jobs that never left the US like education or healthcare. The prices in either skyrocketed in recent years. To study, Americans have to become indebted for a large chunk of their lives and if you happen to have health issues you are out of luck if you live in the US, your medical bills are going to be painful. So the cost of manufacturing goods in the US will be much higher and that will cause prices to rise or companies to go out of business. 
The inflationary effects are not always reflected by prices though. I moved in the US 4 years ago and since then I am noticing an interesting trend..prices may stay the same but the size of things you buy in the supermarket is shrinking. So a packet of candies may still cost the same, but it will have fewer candies inside.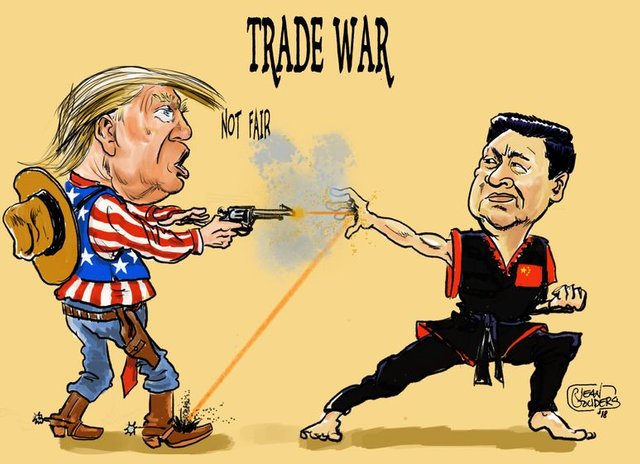 Going back to the China situation, there are more things at play here. Some indirect benefits of running a deficit with China is that they use all the extra dollars that they get from trading with the US to buy American debt and it gives a reason to other countries to use dollars to transact with international partners. If the US is too hostile with countries like China, it gives them reasons to move away from the dollar and start transacting in other currencies. The effects in the short term may be small but over time this could undermine the role of the dollar as a reserve currency. The main problem is that Trump is handling such delicate matters with superficiality, in fact he is already threatening other countries with tariffs and they may be there to stay. So this issue may not go away any time soon. 
They say that the American economy is booming but the debt is growing at a faster pace than the GDP, so this is not sustainable. Most Americans work and they can get to the end of the month without many issues, but this is considering that the costs of living are kept under control by cheap Chinese goods, a higher inflation may be problematic for many Americans that hardly save anything at the end of the month with the current prices.