Canada is a Major Source of Jamaica's Wealth

source
Canada is Jamaica's second-largest export destination (after the USA), Jamaica is Canada's 72nd largest export destination. Despite the difference in ranking, the trade between the two nations is nearly balanced with Canada importing about $10,000,000 more than it exports to Jamaica Can.Gov. Tourism and remittances aside, Jamaica imports all sorts of things from Canada with no good dominating that direction of the trade. However, when you look at what Canada is buying from Jamaica, one good, in particular, stands out.
What Does Canada Want From Jamaica?

Many of us think Bananas or perhaps Sugar, Rum, Coffee, or some other agricultural good. Oddly enough, Jamaica buys more food products from Canada than the other way around, about $5 million dollars more. Before you start thinking it's ganja, don't be silly, Canada grows more than enough for its own usage and the trade is just getting started. So what is it that Canada buys from Jamaica?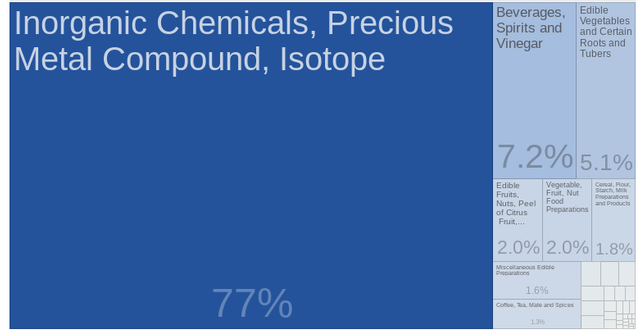 source
That's Right! Inorganic Chemicals, Precious Metal Compound, Isotope...
Or, In Layman's Terms: Aluminum
Yes, 77% of what Canada import's from Jamaica is Bauxite Ore

Oddly enough, Canada being the second-largest country in the world has no known Bauxite Ore but tiny Jamaica has the fifth-biggest reserves of it on the planet. Canada does, however, produce a lot of Aluminum because the refining process takes an abundance of cheap electricity which Jamaica lacks.
Canada's Aluminum is the Cleanest in the World
source
The abundance of electricity comes from renewable sources or hydroelectric dams in regions of Canada that have a low demand for electricity so they built energy-intensive aluminum refineries to provide jobs. Canada imports Bauxite ore from Jamaica, refines it, then exports 87% of the Aluminum products to the USA.
Aluminum smelter employees at Rio Tinto Alcan make around $100,000 per year which should be more than enough funds to take a nice holiday to Jamaica every year!
Hopefully, trade between Canada and Jamaica continues to flourish and expand; we have the CARIBCAN Free Trade Agreement to thank for this.
---
Posted via ReggaeSteem | Reggae Culture Rewarded