Win a 10 USD eBay gift card - very easy!
Would you like to win an eBay gift card worth 10 USD? We are handing one out, and the only requirement is that you follow me (@unbiasedwriter) on Steemit and that you either upvote or write a comment to this post. If you do that, you are one of the people that stand at risk of winning the eBay Gift Card.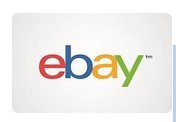 What do you need to do to join the competition?
It was so easy that maybe you missed out on it...
You need to follow me on Steemit (@unbiasedwriter).
You need to either upvote or write a comment on this post (or both)
That is it... if you do so, your name will be written on a paper and placed into a bowl, and on April 15th (Monday) I will pull out a paper from the bowl and find the winner. The winner will get a 10 USD eBay gift card which can be used on your next purchase on eBay.
Worth knowing about the eBay Gift Card
The eBay Gift Card is valid for the US eBay store.
It can be used if your eBay account is registered in the USA with an American PayPal account or an American Payment card.
If you live in Europe, in Asia, in Africa, or somewhere else, you will not be able to use this, but you could then potentially give the Gift Card code away to someone you know in the USA instead.
Do you get the rules? I hope they are easy. If you have a question, just ask it, and by asking, you will also be part of the follow (if you follow me here on Steemit as well).
Ps: For your comfort, the first 50 votes coming to this article is mostly from bots who just auto-vote my new posts (who do not follow me actually on Steemit), meaning that they are not really in the competition, so you still have a very fair chance of winning, even if you feel as if many people have upvoted the article already!
Cheers everyone, and I hope many of you will join the competition!
Amount of participants so far(I will try to update the list daily)
This competition is hosted by me and the IP Address Guide.