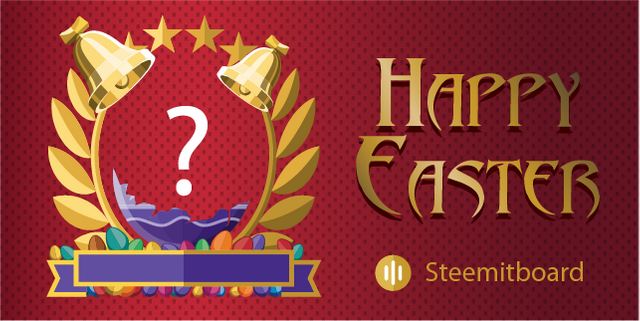 Happy Easter to all Stemians!
Guess you all checked your Board of Honor this morning and expected to discover today the surprise @steemitboard prepared for you.
Since Thursday, @steemitboard is teasing you with the announcement of its multi-day fun campaign, the swarming of small eggs by the Easter Bells, the appearance of a bigger one ...
But exceptionally this year, Easter falls on April 1st. We were therefore struck between the celebration of the resurrection of Jesus and the custom in some countries to make jokes for the first of April.
A few words about April Fool
April Fools' Day is an annual celebration in some European and Western countries commemorated on April 1st by playing practical jokes and spreading hoaxes. The jokes and their victims are called April fools.
People playing April Fool jokes often expose their prank by shouting "April fool" at the unfortunate victim(s). Some newspapers, magazines and other published media report fake stories, which are usually explained the next day or below the news section in smaller letters.
A few words about Easter Bunnies
The Easter Bunny (also called the Easter Rabbit or Easter Hare) is a folkloric figure and symbol of Easter, depicted as a rabbit bringing Easter eggs. Originating among German Lutherans, the "Easter Hare" originally played the role of a judge, evaluating whether children were good or disobedient in behavior at the start of the season of Eastertide.
In legend, the creature carries colored eggs in his basket, candy, and sometimes also toys to the homes of children, and as such shows similarities to Santa Claus or the Christkind, as they both bring gifts to children on the night before their respective holidays.
source: wikipedia
And now … the eggs are now even bigger and started to crack ...

Yes, nothing popped out of the eggs today ("April Fool"). You will have to wait a little longer ... and even more, do some actions to be able to discover what is hidden in your egg.
How to open the eggs?
Upvote this post!
Write a comment on this post with the words "open egg @username"
You can write your own name or someone else name. You can write as many comment as you like. Remember, your friend will also need to upvote this post for his/her egg to open! A good way to inform your friends is to resteem this post.
If you or your friend fulfil both condition, starting April 2nd at 00:00 UTC time, the eggs will start to open!
Check your board on SteemitBoard tomorrow!
---
Spread the fun! Upvote and resteem this post!
---
Support the SteemitBoard Project and all Steemit users. Vote for its witness!
Steemitboard is a project created by @arcange