Day 4 of Super Human Cleanse! Raw Vegan Avocado Kale Soup!
Hello Lovely Steemian Family,
Today we ventured into into raw soup land with a very green! and super healthy concoction of goodness.
I'm not a recipe girl, and I freestyle everything and all of our cooking, and I believe you can feel your way into this!
Get out your ingredients! Everything is pictured here except the Olive oil.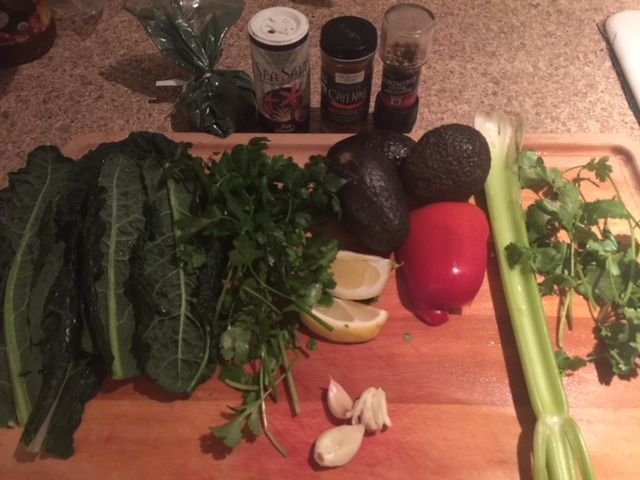 This soup is very filling and was enough for three people.
Please use all organic foods and give the veggies a rinse.
5 pieces of Lacinto Kale - Debone the kale, stripping the leaf from the stalk. no stalk in blender.
2 lemon cubes
1 celery stalk (cute into a few pieces)
a swig of olive oil, maybe like 1.5 oz.
1.5 medium, ripe avocados
a few sprigs of cilantro
a few sprigs of parsley
3 garlic cloves
1/2 teaspoon of salt to taste (more or less)
a teaspoon of black pepper
sprinkle of cayenne
a teaspoon of spirulina!
Now all goes into the blender !
Add about 1 cup of water...
Add warmer water, though not above 119 degrees to keep the enzymes intact if you want a warmer super soup experience
Now blend!! zoom zoom. Add more water for desired consistency of a nice creamy soup
If you have a high powered blender like a Vitamix, you can actually blend it warm!
We enjoyed it room temperature.
And taste to add more salt, pepper, and cayenne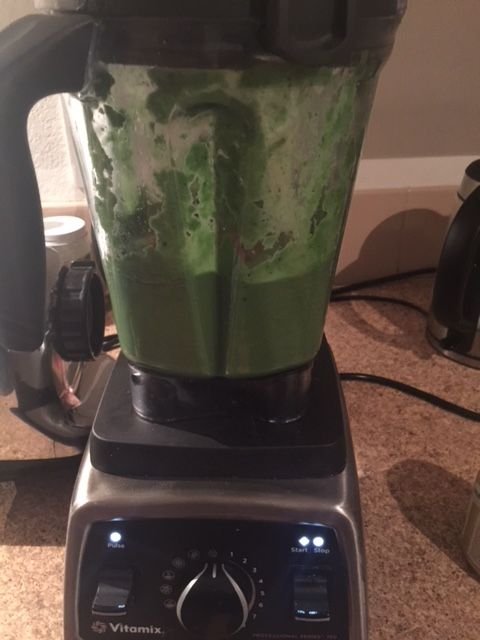 I cut a little bit of red pepper for crunch and flavor
And added fresh mung bean and brocolli sprouts on top
There's also fermented raw cashew nut cheese dollops in there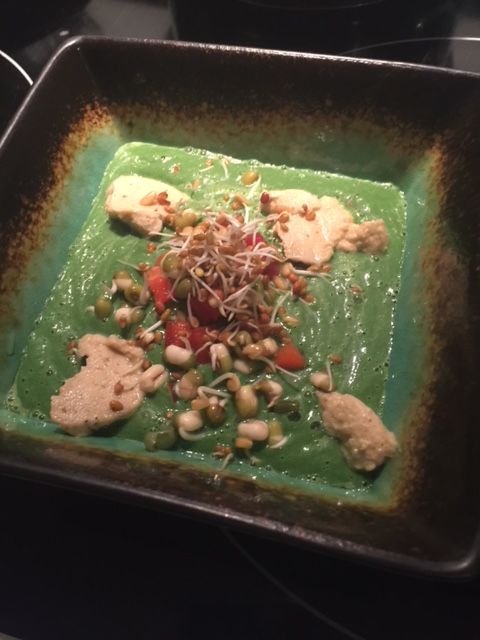 And my partner crushes raw crackers in their for extra crunch and texture
These crackers are also great to dip in the soup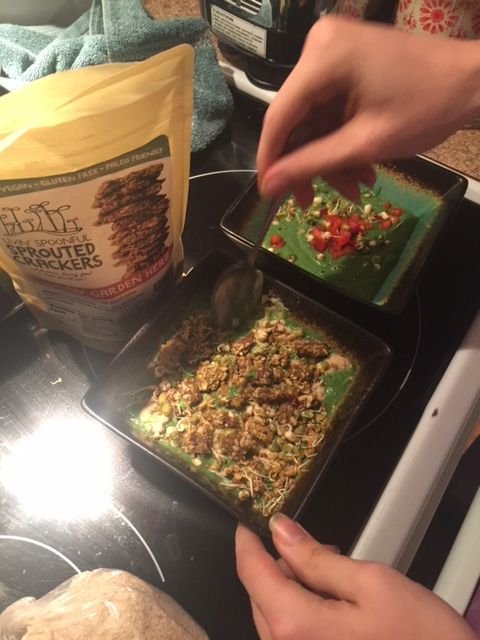 Eat LIVING FOODS! Live Long and Prosper <3
Reporting from day 4 of superhuman cleanse. More fun to come!
I LOVE YOU, Lila*Star