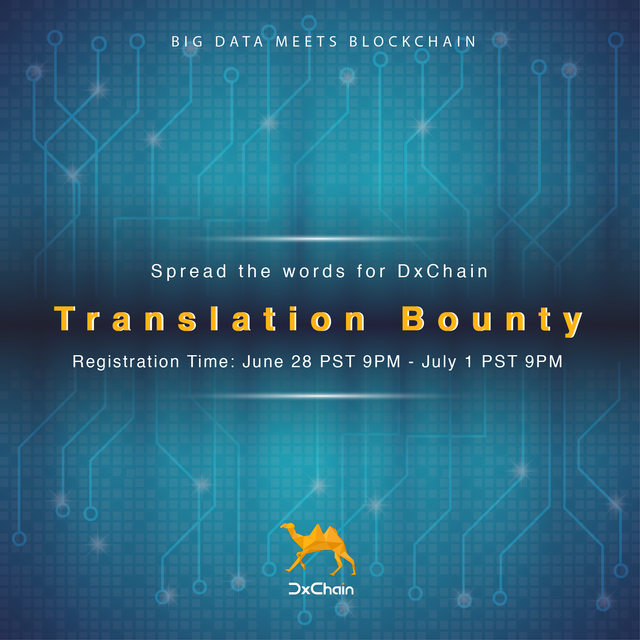 Welcome to join DxChain's Translation Bounty for One-Pager!
Spread the words about DxChain with your native language, and let more people know about us.
Let us go further together, you are the basis of DxChain!
Steps to participate:
All participators have to join the DxChain Global Telegram Group and subscribe our News
Please register here to participate in translation https://goo.gl/forms/vu36uGUHjnTgyVvo1 (Registration Time June 28th PST 9 PM- July 1st PST 9 PM).
The participators will be selected by DxChain team, and you will receive the one-pager through email.
Send us an email with your translation subject to [email protected]
Participants can take 2 days to submit the translation and your submission should not be later than July 5th PST 12 AM. Late submission will not be accepted.
Volunteer reviewer will look over the finished translation works and the winner will get rewards.
Campaign Rules:
The translation must be original and done by the user only. Using Google translate or any translation tools are strictly prohibited and will lead to disqualification.
Only constructive posts are counted. Spam and unnecessary posts won't be counted. Spammers will be disqualified.
There will be only ONE translation at a time per person. Applications for multiple translations/ languages will not be accepted.
Newbies and users with no previous experience of translation will not be accepted. Always make sure to post your previous translation work for approval first and wait until your request being confirmed by email from official DxChain Admin to begin with your translation work.
You need to receive the permission for translation from DxChain in order to claim rewards.
If your translation is approved, you will be required to make any changes if we add any new information during the bounty period.
DxChain reserves the rights to explain the bounty regulations and the DxChain owns the copyright of the translation work.
The one-pager needs to be translated into following languages: Chinese, Vietnamese, Korean, Japanese, Indonesian, Russian, Romanian, Spanish, French, German, Malaysian, Swedish, Greek, Turkish, Arabic and Hindi.
Each finished translation will be reviewed by the DxChain team and volunteer reviewers.
For each language, there will be only one outstanding translation winner (reward 30,000 points), and we will select some decent translations as good participants (reward 3,000 points). Low-quality translations and translations made by Google translate will NOT be approved and will NOT receive any rewards.
Please contact admin @OliviaDxChain and @LorenaDxChain on Telegram if you have questions.