Hello all DxChain Community Supporters,
If you remember, some of you have made high-quality videos and wrote in-depth articles to spread DxChain's concepts using your own words. We are grateful for all of your efforts!
We are running this new YouTube video campaign to reward the producers or authors of the top 15 videos, and let our community members understand DxChain more diversified with the impressive illustration of those videos made by our supporters.
1️⃣ For the video authors, you will be rewarded up to 150,000 community points for your creative and amazing works.
2️⃣ For the audiences, you can earn up to 3,000 community points for voting and commenting for your favorite videos.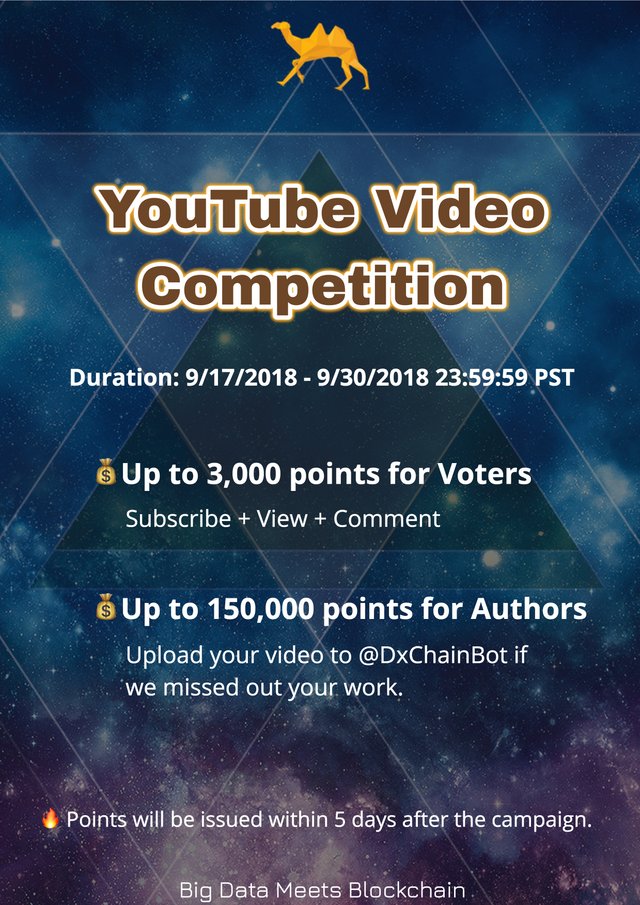 Please check the detailed rules below:
[Duration]
9/17/2018–9/30/2018 23:59:59 PST
[How to participate]
Vote now through @DxChainbot (https://t.me/DxChainBot)
Subscribe to the official DxChain YouTube channel.

Watch the target 15 videos listed in DxChain YouTube Playlist.

Pick 3 videos you like the most.

Comment on the video with your referral link.
E.g. "I vote for this video. Join DxChain community by my referral link xxxxxx"
[Participators Rewards]
Each voter will get 1,000 points for one comment/vote (up to 3,000 points).

Points will be issued within 5 days after the activity ends.

You will not get the points, if:
a) The comments are deleted before activity ends.
b) The comments are posted after the activity.
c) The comments are spam, ads, scam, violence or insult.
d) The comments without referral link will not be counted.
e) Duplicate comments for the same video will only be counted once.
[Author Rewards]

Scoring = 50% Votes + 20% Views + 20% Likes + 10% Originality
If we missed out your spectacular work, please upload it through @DxChainBot (https://t.me/DxChainBot) and let us know in any of DxChain Telegram Group. We are always on our toes to seek for creative and splendid works. Bear in mind, your video may be selected in our campaign next time! Don't be hesitate, DxChain community is always open for you!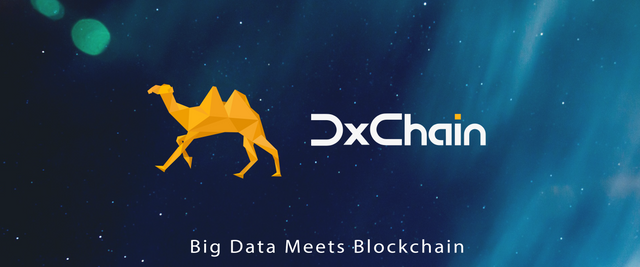 With regards to DxChain: A Decentralized Big Data and Machine Learning Network Powered by a Computing-Centric Blockchain.
Website: http://www.dxchain.com/
Telegram: https://t.me/dxchain
Twitter: https://twitter.com/DxChainNetwork