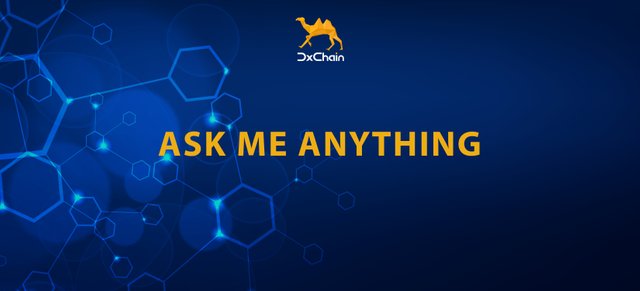 Dear DxChain Community,
Bi-weekly AMA is always a good opportunity to share DxChain progress and improvement with our community! We appreciate every question from you!
Small prize:
From now on, 3 constructive questions raised about DxChain project in the AMA session will be awarded by 3,000 community points each. If you can't join the AMA, feel free to let us know your question/suggestions at any time.
Looking forward to hearing more from our community!!
Thanks to the questions from Ada (@cchylove), Павел (@pavelmining1983) and Nisith Kumar Nayak (@coolnisith) this week.
1. Has the team considered token burn/buyback program?
Some of the projects are trying to reduce the circulation of their tokens, so as to pump the price. We don't think any teams should involve in the secondary market. However, we care about all of our investors and will try our best to position the project for success, including maintaining its true value. So, we will think about the token buyback/burn program if it meets the community's expectation.
2. Why the marketing promotion is so weak in Russia?
Indeed, we haven't put enough resources on the Russian market. Actually, we had lots of fans in Russia before the ICO, and after that, we cut down the budget on marketing since the bearish market started. We put more emphasis on product development at the moment and hope to deliver great products as soon as possible.
All hype will go ultimately, especially in the crypto world. And we will find our own way of success. On the other hand, we cannot succeed without good marketing and PR. Thanks for the suggestion, we will focus more on marketing in Russia in the future.
3. What advantages we are having over others in the current scenario (trading volumes, fees, accessibility, speed, conducting IEO etc..), which helps us to grow?
IEO is not a continuable business model, either can benefit the community or the project in the long run. As mentioned before, all hype will go and every action we make will have a reaction. Trading volume and price of the token is important, but those are the results of other things: product improvement, community health, team development, business development, etc. A catalyst like IEO can be good for the project at the moment, but it also can be a risk for the future. We have to make it our own way and focus on the right things - product development.
4. Can you show some light on product development?
We have confidence in our revolutionary "chains-on-chain" design, which means we are able to solve the fundamental problems including data storage and computing at the same time.
Recently, DxChain Testnet 2.0 was launched. Please check the details here: https://medium.com/dxchainglobal/dxchain-testnet-2-0-launched-dxchain-1st-year-anniversary-celebration-a5593986ce82
Currently, DxChain engineers are working on the next phase of Mainnet Beta development. https://medium.com/dxchainglobal/dxchain-project-updates-23-04-04-04-19-b9cea46fca7e
Check out the update and stay tuned. We will have more good news in the near future!
Thanks for your support!
About DxChain
DxChain is the world's first decentralized big data and machine learning network powered by a computing-centric blockchain. DxChain is a public chain, it designs a revolutionary "Chains-on-chain" architecture to make blockchain function as a computing unit — data storage and computing, so that the technical characteristics of blockchain can be truly extended to a broader field, promoting the next generation of technology from the bottom. For more information, please visit www.dxchain.com.