Traitors - DVD review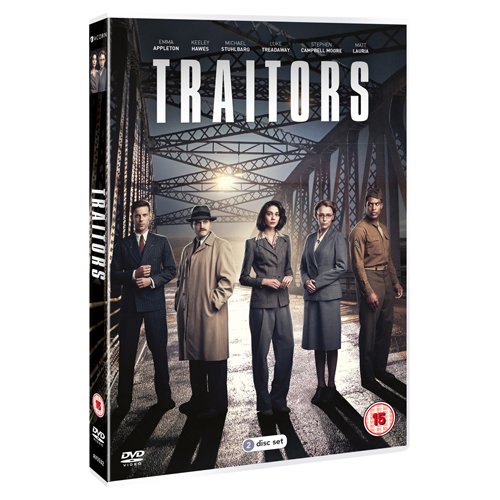 Acorn Media International release the Channel 4 drama Traitors on DVD. Set in 1945, the six-part series is set shortly after the Second World War as Britain, America and Russia are all vying for a new world order. This coming of age female spy story follows Feef Symonds, a gutsy, determined, but naïve 21-year-old, struggling to define herself in a bewilderingly fast-changing world. When she accepts a position with the British Civil Service, she hopes to finally use her spy training picked up during the war. But her allegiances are about to be called in to question...
Created and written by Bash Doran (Boardwalk Empire) Traitors stars Emma Appleton, Keeley Hawes, Luke Treadaway, Stephen Campbell Moore, and Matt Lauria. In the aftermath of a shock election win by the Labour Party lead by Clement Attlee, there is unrest across the water and an American agent, Rowe (Michael Stuhlbarg), targets Feef (Appleton) to spy on her own country. Accepting the challenge, she is about to discover a shocking secret that could put her life in grave danger...
The production is lavish and flawless, and while the cinematography is carefully orchestrated there are a handful of occasions when the camera movements take you out of the action. The scenes where the action circles the actors, while helping to give the audience a 360 degree view of the impressive sets, seem a little too orchestrated and stick out like a sore thumb. It's an unnecessary indulgence that just feels out of place here. They could have gotten away with it once, but it's used a couple of times. In contrast, the low lit, smoky Cabinet Office scenes feel depressingly realistic.
The characters and events are carefully and slowly - perhaps a little too slowly - built up over the episodes and, on reflection, you realise that every single character is flawed, as in real life. In fact the only character with a selfless goal is only revealed to be such in the last episode.
It's an enjoyable and beautifully photographed series... However, I can't help thinking that the material was stretched to breaking point. This could have been half the length and I doubt much story building would have been lost.
#7/10
---
Traitors
Starring: Emma Appleton, Keeley Hawes, Luke Treadaway and Michael Stuhlbarg
Distributor: Acorn Media International
RRP: £24.99
AV3532
Certificate: 15
Release Date: 01 April 2019
http://www.reviewgraveyard.com/00_revs/r2019/dvd/19-04-01_traitors.html