Colors & Their Meanings | dreamvlog #36 [DTubeDaily]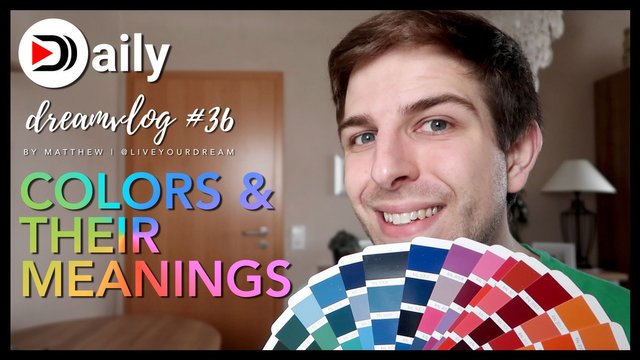 ---
Hello DTube! I know it's been a few days since I posted my last video and actually this video was supposed to be produced and uploaded on Thursday already.
But the problem was that we had a pretty cloudy day. So, I made my settings in the camera and hit the record button. Then the sun decided to come out and ruined my recordings. Everything was totally overexposed. Then it disappeared again and the image was extremely dark…
This procedure repeated a few times and when I finally had solid lighting my dog began barking and my concentration and patience was completely gone.
But anyway, I used the time to chill out a little bit and realized that there is still a life besides DTube.
Psychology behind colors
In today's video I'm talking about the meanings, moods and emotions that we associate with the different types of colors.
There reason why I found this a very interesting topic is that we as content producers also work with thumbnails. And when it comes to making a decision on a specific color for my thumbnail font I haven't thought a lot about it in the past.
The only priority I always set was not the use the same color that I already used on my previous video to keep things interesting.
But what I wanted to do from now on is to find some kind of system when it comes to choosing the right color for a topic. So, dependent on what I am talking about and what's the mood in the video I want to choose a color which fits this mood.
Of course, this doesn't only work for thumbnail fonts but also for the whole color grading in your thumbnail image or video. But as I haven't been working a lot with color grading yet I left that topic aside. Maybe I will make a video about that in the future as well.
The color circle that I was reading from in the video can be found here:
http://www.color-wheel-pro.com/color-meaning.html
What's your opinion about that? Do you think a lot about colors when you're producing your content? Do you maybe also have a system? Tell me about it!
If you enjoy my content and you don't want to miss the next video make sure to follow. Don't mind to upvote and resteem as well and what's most important…
…live your dream!
---
Music & Sound Effects by Epidemic Sound
http://www.epidemicsound.com
---
▶️ DTube
▶️ IPFS