DTube Daily: Live electronic music - Greencross 'Unstable' (Live Jam Take) - 21.03.18 - EXPERIMENTAL - 105BPM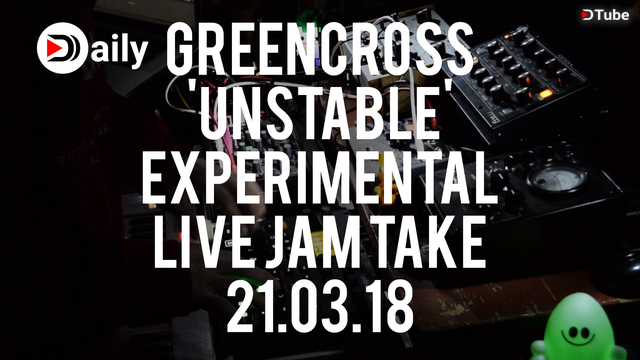 ---
Hello dear friends!
Here's the 18th video of my @DTube Daily series, from the 27th recording of my @DSound daily jam series:
A melodic experimental track, with IMMENSE SUB BASS ACTION!
Recorded today. Live take. Unedited. Work in progress. Mistakes included!.
Today I give you a melodic track. I have no idea of what style of music is this... The title is a symbol of troubled minds.
By the way, I'm also uploading my recorded jams to @DSound on a daily basis, be sure to check my profile if you like.
Gear used:
Elektron Digitakt / MakeNoise 0-Coast / Moog Minitaur / Dreadbox Hades / Retro Mechanical Labs Electron Fuzz Custom CV / Retro Mechanical Labs 432K Distortion Filter.
I used Sylenth (inside Ableton 10) for playing the pad at the end.
Sequenced from Digitakt
Multi-tracked into Ableton Live 10 (only for recording), using MOTU UltraLite as Audio Interface.
Come back every day for a new recording!
Be sure to like, comment and subscribe!. Your notifications keep me motivated to do this every day!
Listen to the whole series on SoundCloud:
Thank you for listening.
---
▶️ DTube
▶️ IPFS