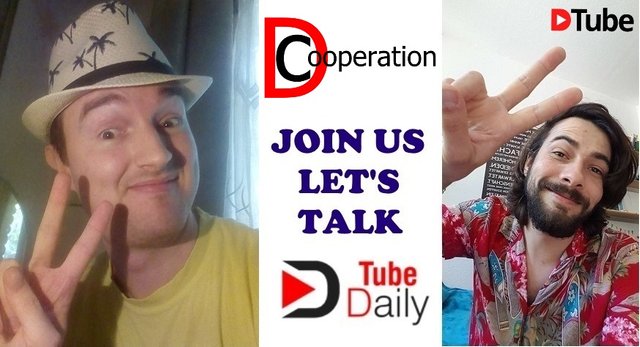 ---
After joining dtube 20 days ago and seeing that not all dtube videos are upvoted by dtube, and 25% is taken from all videos anyway, I feel that I need to create a community to help my self and people who are doing daily video on dtube to earn at least some significant amount from their hard work. Because I think if the video is shared on dtube, it has to be rewarded anyway.
But we can understand dtube sometimes because they are doing manual upvotes and it's hard to know who is spamming and stealing content and who is not. But in my opinion, it's clear who is creating content and who is not, I think a lot of people who are not upvoted by dtube are real creators and they can prove that. I hope dtube will think about it and make some kind of verification. Because even if dtube upvotes real creators with only 1% for each video, we all will be happy. But giving upvotes to the same people again and again is not fair even if their content is blowing mind. I am not saying they don't deserve that, but more than $100 for each video is really a lot.
Those are my thoughts about dtube and now I want to present you a new tag and a new community with people creating content not just in dtube, but also in steemit and dlive and dsound and other trusted platforms. After the hack we had yesterday with steemconnet, it's really hard to trust other platforms or even steemconnet with our keys. I've been working on steemit for about a year and I don't want to lose my keys just because of one bug.
So, our new community will be called ''D Cooperation'' and we will use the new tag #dcooperation to build a community where members help each other to grow on steem blockchain in general. So if you are not shy to show your face and to meet us and record videos like I did with @tibfox , you are welcome to join us. Our verification that you are a real creator is by talking to you by a video call. The video meeting will be organized and recorded to share it on youtube and facebook to bring more people to steem blockchain from all other social networks. I also always share the steemit post in all social networks like : reddit, linkedin, twitter, google plus and others.
We will have a discord channel where we'll talk about our cooperation and what we gonna do to support all dtubers. We will have an upvote channel where we will upvote all cooperating partners. We will share the best tips and tricks to grow on steem blockchain.
To be with us you have to record a video talking to anyone about steem blockchain and dtube. You can talk to any dtuber as well and at least one person has to show his face in the video. Since we are new and just starting this, any suggestions will be welcome. We also need all talented and smart people to help us improve and support this amazing idea. Any shared video has to use the first tag #dtubecooperation. Let's help dtube grow and if he can't upvote all the videos, let's show him that we can !
You can watch our video on youtube and as well help us bring more people to dtube and steem blockchain.
Thanks for being a steemian. ☺
In case dtube upvotes this, we split the reward between us, so everyone who participates with us will get 50% from our rewards. After recording a video, first only one participant posts it on dtube and the second one can do it only after 24 hours. Each participant can add his own intro and thumbnail.
---
▶️ DTube
▶️ IPFS