QTum - Coins of Choice
The idea behind QTUM is making smart contracts easier and more secure while offering interoperability with leading cryptocurrencies such as Bitcoin and Ethereum. The foundation for QTUM's code is Bitcoin's blockchain, but the QTUM developers have abstracted and added layers to the Bitcoin blockchain that allow the Ethereum virtual machine for smart contracts to run on top of Bitcoin. As such, QTUM benefits from new developments in the Bitcoin and Ethereum communities, and smart contracts built on Ethereum can easily be ported over to QTUM as well.
Although anyone can use QTUM, the QTUM foundation is focused on business applications of smart contracts. Their goal is facilitating the transition from legacy systems in aging organizations over to blockchain-based solutions that increase automation and decrease cost.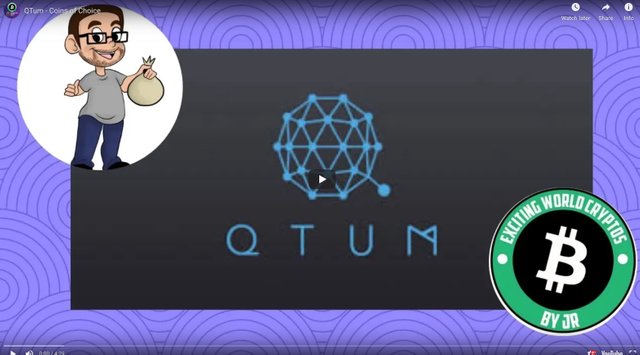 Thanks Everyone In Steemit For Taking The Time To Check Out
This Recent Content Here on Steemit
Feel Free To Contact Me At:
How To Reach Exciting World Cryptos
Connect with Exciting World Cryptos on Social Media!
Check Out My Website: www.excitingWC.com
Subscribe to our youtube page: https://www.youtube.com/user/koss78b2
Follow us on Twitter @ExcitingWorld32
We're on Steemit too : https://steemit.com/@worldtraveller32
Check Out BitBacker: www.bitbacker.io
Offer a Pledge on BitBacker: Exciting World Cryptos
Donate to My Patreon: Exciting World Cryptos
Contact With Me At Email: [email protected]
#dtube #steemit #Seven77 #busy #business #bitcoin #cryptocurrency #curator
I love to Give a big thanks to the following people for all your support.
@prettynicevideo
@themanny
@dragonwolftech
@nathainmars
@perfectstorm
@delso
@nukimaru
@steemsistershow
@priyanarc
@jeronimorubio
@curator
@dtube