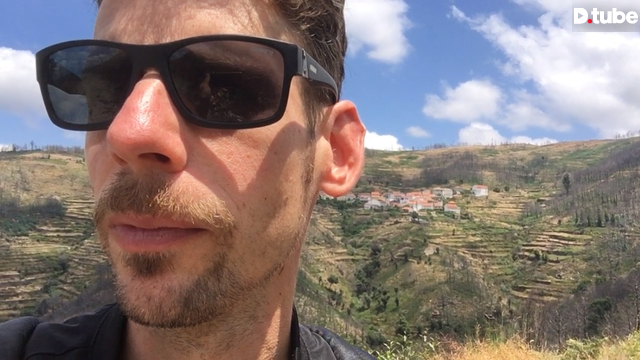 ---
For whom likes reading more then watching video and because I can't help myself, here's some added background to this clip:

I woke up this morning around 6 am from a sharp, stingy pain in my left foot. At first, I couldn't find anything under my covers, until I searched a little more thoroughly: I saw a pretty big and green centipede crawling over my mattress. People had warned me before that they do sting, but I hadn't experienced that so far, so I did not believe it. Seeing this squiggly multi-legged bug I freaked out a little bit. I thought of splatting it with a sandal. But then my Zen mode took over. I caught it in a pantoffel ( a soft kind of house slipper ), opened my bedroom window, put the pantoffel with the centipede outside my window sill and then closed the window again.

I tried to get back to sleep but couldn't help myself googling the critter for a while. Of course I found emergency stories that didn't ease my nerves - it being poisonous and all - so I soon gave up the reading. Meanwhile, I did not feel my foot anymore ( in a good way ).

I managed to sleep another hour and woke up naturally around 8am. I put on my right pantoffel, opened the window, shaked out the left pantoffel, to make sure there was no centipede inside, put it on and felt something tickling my foot. I took out my pantoffel. The centipede started crawling out of it, I quickly walked to my bedroom window, opened it and shaked it out. The centipede dropped down a couple of meters and crawled away. Luckily I hadn't been stung again.
Hours later, when I started feeling low on energy, I decided to go on a hike in the comfy ( mid twenties Celsius ) Summer weather. I decided to bring food, water, reading material and a notebook along. As soon as I left the village, crossed the main road and then left the asphalt road to walk down an off-road track, nature opened up to me. It inspired me, a little later, to shoot a three minute video with my phone and share it with you. Also, on that walk, I realized it was Monday and that there's a so called #mindfulmonday tag to go with blog posts written on this particular day. So here we go...
P.S. It's probably the daily meditation that I'm on for over a year now and my attempt to reconnect with nature and everything that's part of it, that makes me not even kill a centipede that stung me. In fact, while on my walk, a fly kept trying to land on my sweaty nose. Instead of swatting it away, I thanked it for reminding me of the now. Because, at that moment, my thoughts were drifting and I wasn't in the now.
Beat that! ;>)
---
▶️ DTube