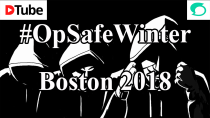 ---
DTUBE Version Film Summary
This is my compilation of the #OpSafeWinter live streams I did. I raised the money on Steemit.com to buy 48 backpacks and fill them with food and winter clothing for the homeless. I then assembled a team of five people to help hand these bags out in the city of Boston.
Here is the video of me and my fiancee prepping the bags: https://www.youtube.com/watch?v=sSJB5RWdeQw I will be posting this video later to steemit and dtube.
The operation went really well, we handed out about half the bags to random homeless people we found on the streets. The other half we gave to homeless veterans in a homeless shelter near state street.
The people we gave the bags to were extremely happy and thankful for the bags, one man in a wheelchair told me his whole life was in his backpack and his bag was ruined so he was desperate for a new back pack.
This operation went so well that I will be doing another one soon for Rosie's place which is another homeless shelter but one that specializes in helping battered women.
This is the post that made the money for this fundraiser: https://steemit.com/steemit/@titusfrost/how-steemit-will-help-feed-an-enitre-christian-church-in-myanmar-christmas-dinner
I will be writing up a blog on steemit to show all the receipts to show and document how all the money from the steemit fundraiser was turned into 48 back packs worth of stuff for the homeless. Unlike the Red Cross 100% of the funds raised went to those in need.
I made this film to inspire others as I was inspired by those who came before me, run your own #OpSafeWinter in your town.
Help me out by up-voting and re-steeming this and or by making me an Independent Journalist by funding me on Patreon with monthly support. My Patreon

Don't forget to follow me @TitusFrost for more of my work coming in the near future...


You can also connect with me on:

Be like Marty McFly and Donate Crypto to me via:

Bitcoin: 1No8uLp6VYLNKNggSteHt3w4LzeMkq2PoJ

LiteCoin: LQeFWvanKSezZqtDRukg11ZciHQDoQQ5Qb

Mine Crypto Yourself easily with Minergate: https://minergate.com/a/6a4315d4a78d9204197c9bb6

Join CoinBase (buy and sell crypto currency for USD / fiat currency): https://www.coinbase.com/join/57f28268eac8836245661769

---

▶️ DTube
▶️ IPFS