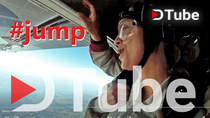 ---
Those of you who've ever done a skydive in their lives know: that moment when they open the airplane's door, you believe being part of a movie!
Everything about it seems completely unreal and illogical. I mean from a strictly rational point of view there is no reason to jump out of a plane. Your brain starts to send out adrenaline into every single cell of your body, and all kinds of surviving techniques are activated.
Your body screams from the inside: don't do it!!!
Still you ignore all these alerts... because you're hungry. Hungry to live on the edge of life, hungry to exceed your own limits and to literally broaden your horizon.
You're on the hook of life.
I love those types of extreme sports since they teach you that you're able to overcome any sort of fear. These moments demonstrate us that we're capable of much more than we actually dare to do.
These adventures also put us into place, they make us humble. We suddenly recognize that we're just tiny little beings that don't even come close to the power of nature. We're so unimportant in this infinite universe.
Still, we're the ones who decide what and when. We're in charge of making the very best of our lives, every single day.
Go out and live! Life is short :-)
Best, Marly -
PS: Just in case you can't display the video on DTube, here's the low res YouTube version:
---
▶️ DTube
▶️ IPFS