Don't Starve - Episode 4: WINTER IS COMING!!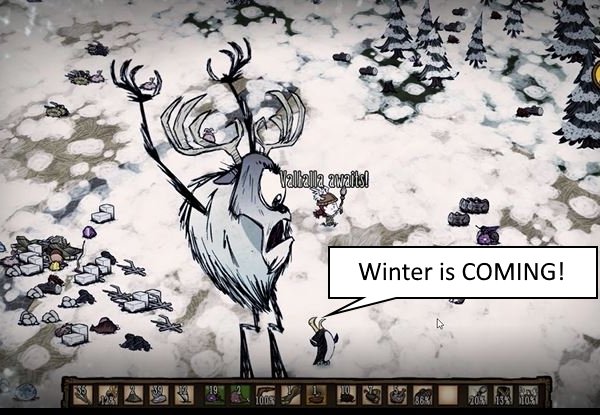 ---
Hi everyone,
In this video, I tried editing more extensively, cutting 1.2 hour of video to just under 14 minutes long. The resulting video has more transitions, but I think these edits are necessary, as there is a lot of content of me just gathering resources and bitching about life. The latter I think would be better suited to vlogs :P, but I am yet to completely get over my camera shyness lol. I also figure out how to use audacity's noise removal tool, so you should also hear less of my frantic clicking!! I know, I click A LOT!
Overall, I think the shorter version of the video is better, as it makes the content more digestible, but feel free to disagree. I am still finding my footing w.r.t video editing.
Video summary is below, and thanks again for watching!
@strongerbeings
Previous Episodes

▶️ Episode 1: Wigfrid, Valhalla Awaits
▶️ Episode 2: Wigfrid is Reborn
▶️ Episode 3: The Harvesting of Time

Don't Starve Episode 4 Summary

Days Survived: 33

4:10 Walrus Hunting
The hunter, becomes the hunted! I track down the Walrus Hunting party and try and take him down for his precious loot.


6:20 Sleeping Penguins
Sleeping Penguins make for easy prey... or so I thought : (. Oh, the shame I bring to gamers everywhere.


7:40 The Treeguard Awakens
Winter is a cruel mistress... Desperate for firewood to keep warm, I go lumber-jacking, and inadvertently wake up the Treeguard. No choice but to take him down. Don't worry, I will fashion staffs of great power from his limbs!!!


9:50 The Deerclops Approaches
..... I got this *gulp...


---

▶️ DTube
▶️ IPFS