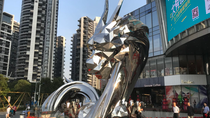 ---
As you may be aware if you follow me on Steemit, I attempted to upload this mix twice, initially at: https://steemit.com/dtube/@strayenglishman/bmfov8yd
I'm really hoping that it works this time!
From the original post -
I may have not previously mentioned it on Steemit, but a hobby of mine happens to be DJing. I DJ under the alias Shuangmian '双面' which means 'double-sided;' a name chosen as I believe that my musical tastes tend to be exactly like that, I will often play multiple genres in the same set. Those sets are often as much a game of two halves as the average football/soccer match; about 90 minutes long with 45 minutes of house, with techno being played in the second half. Yet, I will also sometimes play other genres that I like such as DnB too!
These days, I'm often too busy with my real job and part-time academic pursuits to DJ at parties, but every now and again, I will record a set to share with my friends. Usually, I host them on MixCloud, but this is the first time that I have chosen to host a mix in psuedo-video form and share it on D.Tube/Steemit. It was the first mix that I recorded after making the move over to Shenzhen. DJs may be ten a penny in Shenzhen, but I don't feel that it should deter me from putting these mixes out from time to time; maybe I will eventually get out there and play out at a small party or two.
Tracklist:
Rompasso - Vice Versa (original mix)
Phonique - River (Robert Babicz remix)
eCost - Dance!
TNTS - Reminiscence (original mix)
Daniil Waigelman - Margarita (Original mix)
Culture Bass - Maori (Original mix)
Toni Varga, Sante - In Time (Sidney Charles remix)
Huxley, Skapes - Chants (Original mix)
Gab Rhome - Venus
Federico Monachesi - Logical Positivism Avenue (Original mix)
Maceo Plex - Solar Detroit (Original mix)
Middelar - Ymaro (Original mix)
Orsen - Komorebi (Original mix)
---
▶️ DTube
▶️ IPFS