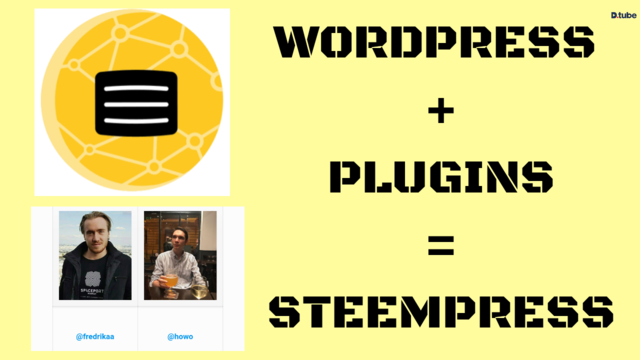 ---
Hello Friends
This is my entry into @blocktrades sponsored @steemonboarding contest about @steempress. Read Here for complete contest details.
Before we proceed to explain about Steempress, First we need to understand Two most important part. I.e WordPress & Plugin
WordPress is an open source software which is use to create beautiful website and blogs. A kind of Content Management System.
A Plugin are the add-on of the software that are installed to enhance their functional capabilities.
Now if we need to understand @steempress, we can say , It as a ***Steem Plugin that connects the WordPress Blogs into Steem Blockchain. Steempress acts as a "Bridge" between these two platform and helping users in many way. Thanks to @fredrika & @howo for running these plugins which help many users to get good rewards through incentivising their content .
While the user get good reward on their content by posting into Steem BlockChain, on the hand Steem gets a good promos about their BlockChain through WordPress. A win - win situation for all.
How to Use Steempress Plugin.
To post by WordPress Blogs into Steem, a user needs to have a Steem account.

The user then needs to download Steempress plugins from WordPress website and install it like any other normal plugin.

Then the user needs of visit the setting page and Steem user ID and Posting Key to auto create the bridge.
There are many other setting option which user can set as per their preference. Like rewards distribution, posting timing etc.
Steempress further developed into a DApps as Steempress.io V2 and allows user to comment and curate the Steempress posts. Overall it is a great platform to rewards and incentivise the content.
A simple and easy way to make your Blogs into BlockChain.
Reference Website :
www.steempress.io
www.wordpress.org
Stay Calm....
Keep Steeming...Steem On !!!
---
▶️ DTube
▶️ IPFS