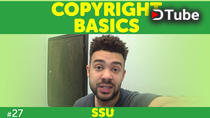 ---
T-shirt designers can get into serious legal trouble if they use elements from games, movies, TV shows and games in their prints.
Copyright/trademarks legally prevent t-shirt manufacturers from using other people's works on their shirts for profit.
There seem to be 4 exemptions to copyright/trademark law:
• Personal Use
• The copyright owner has died
• The copied work was created before copyright law existed
• Fair Use
Quotes from copywritten/trademarked works are also off limits. These laws don't just apply to images and logos.
Check trademarks and copyrights at the below websites:
Trademarks - http://tmsearch.uspto.gov/
Copyrights - http://www.copyright.gov/
Articles on copyright law and t-shirt design:
• http://blog.kunvay.com/3-common-questions-t-shirt-design-copyright-law-answered/
• http://blog.kunvay.com/t-shirt-design-copyright-basics-3-facts-every-graphic-designer-should-know-about-t-shirt-design/
• https://printaura.com/legal-guide-tshirt-design
ADD ME ON:
►INSTAGRAM: https://www.instagram.com/startstartingup/
Must Have Software:
Other Must Haves:
---
▶️ DTube
▶️ IPFS