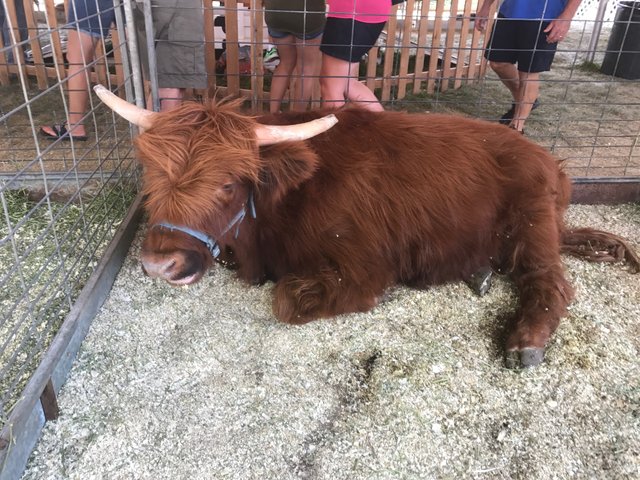 Watch Most Majestic Video I've ever taken video on DTube
---
I visited the state fair this week with my family. It was great, we go every year, see the entries in quilt making, jam making, the largest pumpkins, masters of photography and flower arrangement. We are a rural state so there's also a lot of farm animals that are brought in. Massive bulls, sheep, goats, and clydesdale horses always bring in a crowd.
But this year. THIS YEAR I MET THE MOST MAJESTIC ANIMAL ON EARTH. This little lady is a Scottish Highland cow. Yes, the females also have horns, just smaller than the males. She's from a bit of a cooler climate than what we have here, so she had HER OWN PERSONAL INDUSTRIAL SIZED FAN for our summer heat that reaches over 100 F.
Her beautiful auburn locks were blown about by the wind, and she jutted one sultry front leg out, as if it say, "Look at me, I. Am. Fabulous."
This is the best video I have ever taken. I even downloaded snapchat just to be able to put the words across the screen. If you turn the volume up you'll hear her catch phrase as you watch her locks flow.
Please enjoy.