619 Times presents @BadKarma619 - Once (Dtube Edition) w/ Visualizer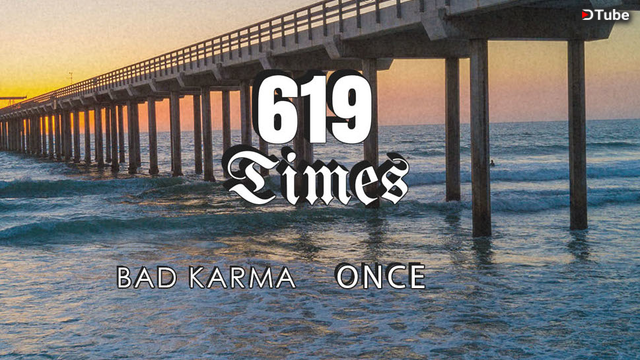 ---
This is our DTube premiere of the first track of our 619 Times on board Steem initiative. We on boarded @Badkarma619 to Steem and he has hit the ground running!
If you missed our project initiative post you can check out these here!
Operation Bring San Diego to Steemit!
619 Times: Documenting Our Process
Lets get to the music! This is an aaliyah sample i flipped (I'm a huge Aaliyah fan) and i double timed the track and added my own flavor to it.
Here are the lyrics to the song:
We are premiering our very first track to our on board project! This song has a dope Aaliyah sample and features Karma's love-storytelling skills.
Here are the lyrics provided to go along with the track:
Ugh, Once Upon a time
(Hook)
Once Upon a time all i knew was you /
But I don't like the person that you grew into/
People change like the season so the fall came/
Why do i insist on learning it the hard way/
Once Upon a time all i knew was you/
But you don't like the person that i grew into/
Remember when you told me that i love you always/
I guess that's what they all say/
(Verse)
& You can say i changed cause i needed to/
They say good people make mistakes /
And some people never change /
Tell me which one do you think is you/
When feelings go from mutual to seasonal/
I changed cause i needed to on the under/
I used to wonder blindly, yeah i use to stevie wonder/
If you got my name covered (hmm)/
To forget the place you come from doing me just like the others /
Did you change cause you needed to?/
They said good people make mistakes & some people have intentions/
Thanking God he gave the wisdom so that i can see the difference./
If i loved you then i love you if i miss you then i miss you/
But I won't change cause you need me to/
I still feel the same that's from me to you/
I still miss those days it was me & you/
But i just can't change the shit that we been through/
(Hook)
Once Upon a time all i knew was you /
But I don't like the person that you grew into/
People change like the season so the fall came/
Why do i insist on learning it the hard way/
Once Upon a time all i knew was you/
But you don't like the person that i grew into/
Remember when you told me that i love you always/
I guess that's what they all say/
(Verse)
& i hate it when you try to call me by my first name/
When i was young i use to want you in the worst way/
I remember being with you on my birthday/
& next year you paid for the suite but couldn't stay/
The year after that i don't think i heard from you/
Not a text message not a single word from you/
& even if you say its cause you haven't heard from me /
Baby you was older than me you was more mature than me/
Think i met you when you worked up at the bank inside of Vons/
We was both running thru a check but i ain't have a Job/
You told me to be more controlling cause it turned you on/
But that just wasnt me that aint the type of shit im on /
You was 21 i was only 17 /
& i never told you but that help me boost my self esteem/
I still remember everything that you was telling me/
Hope you happy where you at and hope you want the same from me/
(Hook)
Once Upon a time all i knew was you /
But I don't like the person that you grew into/
People change like the season so the fall came/
Why do i insist on learning it the hard way/
Once Upon a time all i knew was you/
But you don't like the person that i grew into/
Remember when you told me that i love you always/
I guess that's what they all say/
---
▶️ DTube
▶️ IPFS