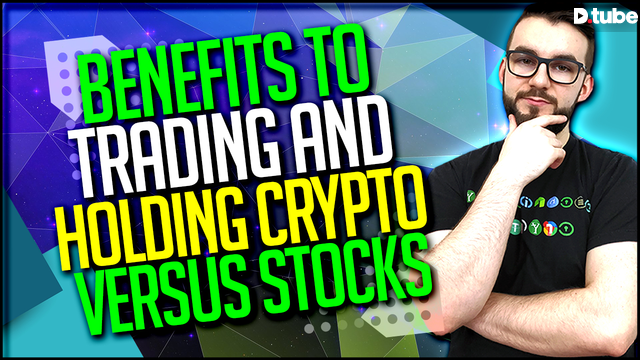 ---
While there are a few drawbacks to cryptocurrency trading and holding, there are countless benefits that stock trading and can't offer you. Let's go over them together.
Here are the benefits to cryptocurrency:
• You can trade cryptocurrency 24/7 without restrictions.
• Typically, the fees are negligible compared to trading on regular exchanges.
• There is no minimum purchase amount, nor do you have to have a certain amount of money to start trading.
• Many exchanges offer ways to earn free cryptocurrency or give you registration bonuses you typically cannot get with regular exchanges.
• You could spend no money whatsoever and earn cryptocurrency and then trade what you've earned to generate a much greater profit.
• You can buy fractions of a cryptocurrency.
• You can spend it right away.
• You can use them for various things like staking or as a utility.
• You can mine cryptocurrency should you choose to.
• Given you store your cryptocurrency off the exchange as you should, you should never be concerned with someone else restricting your access or from hackers stealing your funds.
• Cryptocurrency itself is highly secure and accurate, everything is tracked with 100% accuracy and everything is verified for integrity.
• You don't have to pay holding fees.
• How you use the coins after is completely anonymous or can be made anonymous should you choose.
• It's very easy to transfer compared to withdrawing or depositing a stock and is much faster.
• With decentralized exchanges, it is easily available to anyone regardless of their banking services or location (given it's legal).
• Transactions are made significantly faster.
• You can lend your cryptocurrency.
• Price is reliant on the entire network, not the company and more accurately the current CEO (refer to Tesla and Elon) depending on the cryptocurrency, namely Bitcoin.
• You need a bank to trade on an exchange, but you don't necessarily need a bank to trade cryptocurrency, as well as many types of accounts, have minimum holding requirements or you must pay monthly bank fees.
• You can earn cryptocurrency from hosting a node on a network.
Here are some of the drawbacks to cryptocurrency:
• Cryptocurrency is volatile.
• User error can be very costly.
• The more decentralized you go, the less support you have.
Let me know what you think about this in the comments below and don't forget to subscribe!