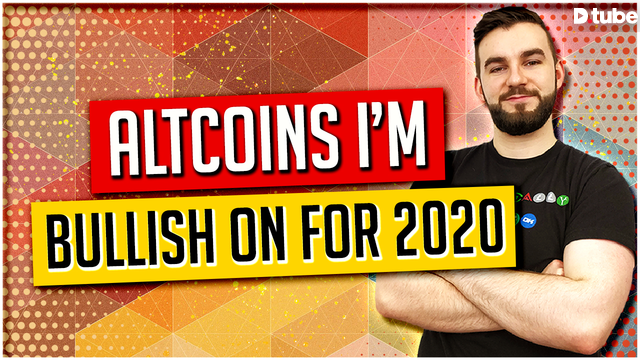 ---
The 5 altcoins I'm the most bullish on for 2020 are TRX, ETH, BAT, 1UP, and LBC. I dive in and explain my reasoning for each as well as briefly touch on the Bitcoin halving and how it will affect the whole market in this episode.
The Bitcoin halving will have a major impact on the entire market, but I specifically want to focus on the coins that I believe will perform very well this year with or without its influence and we will cover all the reasoning behind that below.
How Bitcoin Raises The Tide For All Coins
https://bitcoinblockhalf.com/ - This site shows you all the information you need about the halving in real-time as well as gives you an estimated countdown clock.
The current reward for miners mining blocks for bitcoin is 12.5 and it will decrease soon to 6.25. Litecoin is one halving behind Bitcoin so it's currently at 25 and will go to 12.5. This means there will be a much lower incentive for miners and traditionally many miners have stopped mining when this happens which leads to the supply to be lower while the demand stayed the same. This is meant to deal with inflation and allows the value to go way up as fewer coins are produced. Don't listen to me for financial advice, but do take note of this and realize that previous crypto value booms have happened after halvings and though it could be speculation one might conclude that it directly affected the value.
Ethereum
https://twitter.com/AdamScochran/status/1217524744909660162 - List of companies building on Ethereum
https://coinmarketcap.com/currencies/ethereum/ - Check out its value here
Half of the other coins listed utilize the Ethereum network, many successful platforms rely on Ethereum, and many companies are developing projects on Ethereum at a rapid pace. It is the enterprise blockchain and the backbone of blockchain development. For these reasons, I'm very bullish on Ethereum this year and beyond.
LBC
https://lbry.com/youtube - LBRY's YouTube sync program where you can earn free LBC for syncing
https://coinmarketcap.com/currencies/library-credit/ - Check out its value here
LBRY has a great deal of users flooding in ever since the crypto purge on YouTube in December making more people aware of the risks of relying on YouTube alone. They offer so many different ways to monetize and earn on top of the fact that they are also decentralized and censorship-resistant, they've even gained over 100,000 new users in February already with the new campaign they are running. LBC will continue to gain value as the platform improves and grows and for these reasons, I'm bullish on it for 2020 and beyond.
BAT
https://batgrowth.com/ - Growth statistics for Brave browser creators
https://coinmarketcap.com/currencies/basic-attention-token/ - Check out its value here
BAT is one of my favorite coins and has one of the most vibrant communities with tons of support and their value proposition outweighs most. People who use Brave get a faster, more privacy-focused experience while also earning free cryptocurrency (should they decide to), and have better and automatic security built-in. Their token, BAT is naturally going to go up in value alongside their rapid growth and development.
1UP
https://www.uptrennd.com/stats - Uptrennd growth statistics
https://coinmarketcap.com/currencies/uptrennd/ - Look at their market cap going up drastically month over month
Uptrennd has been growing exponentially it seems since August of last year to the end of 2019. They have begun expanding their platform out and have been pumping out impactful updates to the platform very frequently. Uptrennd's growth is in line with its token's value increase over the last 6 months of 2019. Given the platform continues at this amazing rate, we should see the token value continue to reflect that. Uptrennd also occasionally burns tokens to improve the value, so the earlier you get in and invest or earn or you level up on Uptrennd to earn even more, the more you will make in the long run.
TRX (Replaced STEEM)
https://coinmarketcap.com/currencies/tron/ - Check out its value here
https://twitter.com/realNedScott/status/1228364811622322178 - Ned Scott announcing he sold Steemit to Justin Sun from TRON.
https://community.dlive.tv/2020/01/15/lino-update-bittorrent-rocket-ready-for-liftoff/ - Announcement for the transition from Lino to TRON.
Naturally, with all the news around Tron acquiring Steem's first and largest dapp and seeking to move more dapps to the Tron network, Steem is going to lose a lot of support. DTube and other big applications may be able to keep it afloat, but it's likely that Tron will keep pecking off dapps until the majority of Steem moves to Tron. Given this is the case, it only makes sense that my previous recommendation which would have been to invest in Steem this year is to invest in Tron. Not only that but they also just acquired DLive which I personally think was riddled with issues and has already migrated twice before (the first being from Steem), Tron is buying up all the top social dapps. The bottom line is they now own the largest blockchain streaming platform and largest blockchain blogging platform and intend to dive further in. They will also be using BTT to facilitate this as they will be merging their BitTorrent dapp with DLive in April. With everything to come, I just hope they aim to improve and build upon these dapps and save them rather than cannibalize their potential profits and suck the life force out of the communities that once thrived.
DLive is very broken, that much we know. What we don't know is whether Tron will fix it and whether or not they intend to do the same with Steemit. Only time will tell.
Am I way off on anything here? Did I make a mistake? Do you feel that I'm missing a great coin and why? Let me know what you think about this in the comments below and don't forget to subscribe!