Original Thai Snack. How to make Kaokap. วันสงกรานต์ ทำข้าวแคบ ทำบุญ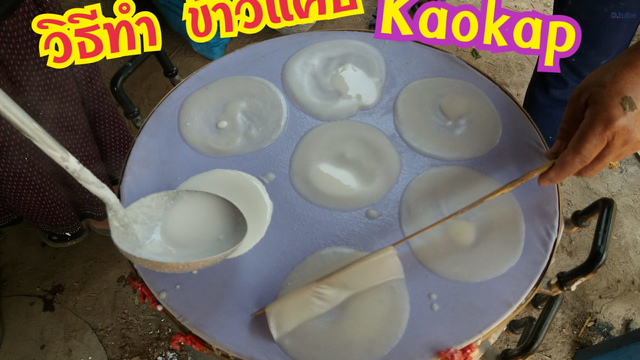 ---
Hello steemians and Dtube friends,
I'd to present Thai snack called Kaokap. The original Kaokap is the north of Thailand. They soak the sticky rice in the water about 8 -11 hours. Wash the sticky rice about two times and then grind in the grinder. You can put the sesame and salt into the rice, but in this video they put nothing. They told me that they love original taste from sticky rice. They also put some instant sticky rice flavor in the grinded sticky rice to make the rice more soft.
Light the fire in the fireplace. Pour the water in the basin, put the basin on the fireplace. Put the white cloth on the basin. When the water boil flatten the rice on the white cloth in the circle shape. Take the rice out to dry on the thatch grass for 3 hours.
You can bake Kaokap on the fire or fry it in the oil. Taste it .. Yummy!
I hope you will enjoy my video. Thank you for visiting, upvote, comment and resteem.
สวัสดีค่า คลิปนี้โรสนำวิดีโอการทำข้าวแคบของทางภาคเหนือมาฝากค่ะ เพื่อนเคยเห็นหรือเคยลองทานข้าวแคบบ้างไหมค่ะ ข้าวแคบเป็นอาหารว่างที่อร่อยมันกลมกล่อม บางสูตรจะใส่เกลือและงาดำเพิ่มคุณค่าทางอาหาร แต่สูตรนี้ไม่ใส่ค่ะ ก็จะได้ความหอมของข้าวเหนียวและความหวานมันของข้าวเหนียวล้วนๆเลยค่า ขอให้ทุกคนมีความสุขกับการดูคลิปน่ะค่ะ หากชอบก็กดโหวต คอมเมนต์และแชร์ได้ค่า ขอบคุณค่า
---
▶️ DTube
▶️ IPFS