Wink Poker RAKE Token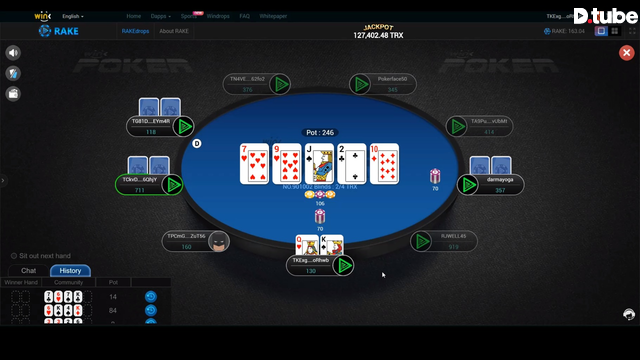 ---
WINk Poker will have a low rake of 5% of each pot with a minimum of 1 TRX rake.
RAKE Token
The unique TRC20 RAKE Token can only be mined through play WINk Poker. This token WILL NOT be going on exchanges and is only used as a tool for calculating rake back, RAKEdropss, VIP services and more.
There is a total of 1,000,000,000 RAKE tokens available for mining with a total of 50 Levels with 10 stages within each level (2,000,000 RAKE tokens in each stage). Each bet that goes into the pot will reward users with RAKE tokens. A user who win's the pot is also rewarded with bonus RAKE Tokens.
RAKE mining value increase using the below formula:
Bet RAKE(1) = 600TRX + (Stage-1) x 6
Pot Bonus RAKE(1) = 150TRX + (Stage-1) x 1.5
Example
Level 1 - Stage 1 Rake Mining
Each player total bet for a single hand of 600 TRX = 1 RAKE Token
Player A bets 600 TRX, is rewarded 1 RAKE Token
Player B bets 600 TRX, is rewarded 1 RAKE Token
Player A wins the pot of 1200 TRX, is rewarded 1200/150 (Pot/Pot Bonus Rake) 8 RAKE Token
---
▶️ DTube
▶️ IPFS