Ep3: Bitcoin For Newbies - How to Buy/Sell Bitcoin & Wallet Recommendations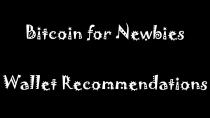 ---
How to Buy/Sell bitcoin, litecoin, ethereum, and/or bitcoin cash on Coinbase. Get $10.00 in FREE bitcoin!!!
https://www.coinbase.com/join/5924a80a81c94b08b98066cc
These are my wallet recommendations for Newbs!
Blockchain.Info wallet
Edodus Wallet
www.Exodus.io
Please like and subscribe.
Facebook:
https://www.facebook.com/digitalwealthusa
Twitter:
@ricecrypto
Instagram:
ricecrypto
Steemit:
@ricecrypto
Gmail:
[email protected]
**Buy bitcoin, litecoin, ethereum, and/or bitcoin cash on Coinbase. Purchase $100 or more and we both get $10 worth of bitcoin FREE. It's another way to support Rice Crypto & Digital Wealth Network!!!
https://www.coinbase.com/join/5924a80a81c94b08b98066cc
To Support/Contribute:
Rice Crypto and Digital Wealth
Bitcoin:
1QDqoJq4ktbJCqEuC8GDR6aVRfhnKZ6yv5
Ethereum:
0xBbb0a990F5eB05F8baD89146044295d5aBDF3cf2
Litecoin:
LPnTSm6Quu8nQi3prk9eqVEzPNRftsx64u
Dash:
XdH2KkAHkoo1VD6iEU5qXbRb5faDFZaevX
Bitcoin Cash:
14QbmRmc7RLFXohJAfXiSfiBcCVcXu8bHt
Salt:
0xBbb0a990F5eB05F8baD89146044295d5aBDF3cf2
Patreon coming soon!!!
---
▶️ DTube
▶️ IPFS