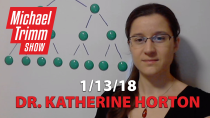 ---
The Michael Trimm Show is the future of the way people receive insight into modern times. Honesty. Integrity. Purpose.
James Bond is 007 and just recently the blockbuster movie showcased Spectre. In January 2018, Spectre the real thing was disclosed to the public. The threat is real and the war is on. This joint discussion gets into the nitty gritty details about how we convey these messages of truth to those who are still asleep. We must do everything in our power to wake people up to the imminent dangers imposed upon them by this very powerful elite group of child sex traffickers. Regardless of whether or not you're from this side of the pond or the other, we are fighting a global war that must be won. I invite everybody to subscribe to Dr. Horton's work at @stop007org and to visit her official website at https://stop007.org.
Censorship of the truth is very real. This discussion will only open your eyes further to the truth and give you an opportunity to redpill those who are unaware. I ensured that the interview was conducted from a skeptics perspective and asked for proof and evidence of the claims being presented here. Dr. Horton has spent over 6 years investigating this topic and we were only able to just scratch the surface.
2018 will be an exciting year and we must all stay strong and united as one. Supporting this channel, and Dr. Horton's channel is essential to winning this information war. Please do your part by sharing this video with everyone you know. Email them the link to this video if you have to. Don't just rely on social media (where they shadow ban you and make you talk to an audience of bots).
CBS is desperately trying to censor my 2017 Year In Review video. Bypass the censorship by viewing or listening to the broadcast using these alternative options below:
2017 Year In Review:
YouTube: youtube.com/watch?v=81PDue2lJB0
DTube: d.tube/#!/v/realmiketrimm/ermzcd6e
LBRY: lbry://@MichaelTrimmShow/2017-year-in-review
Viuly: https://mts.yt/i/nU1C5o
Official Website: mts.yt/i/p2jS3Z
SoundCloud: https://mts.yt/i/ttOmeX
Please support by becoming a premium subscriber. No extra or special content comes with a premium membership. Michael philosophically disagrees with that practice in the media industry. Honesty. Integrity. Transparency. Truth. That's what you're supporting. Please consider:
Online Community: https://michaeltrimmshow.com/join
Patreon: https://patreon.com/MichaelTrimmShow
To get access to the Michael Trimm Show on multiple alternative platforms, you can use these short URLs. Please subscribe to each one of them and turn on alerts and notifications.
YouTube Channel: https://mts.yt/ShowOnYouTube
D.Tube: https://mts.yt/dtube
SoundCloud: https://mts.yt/soundcloud
Steemit: https://mts.yt/steemit
Medium: https://mts.yt/medium
Keybase: https://mts.yt/keybase
Support this channel by using our exclusive referral links that help generate income to fund the show:
Coinbase (Cryptocurrency): https://www.coinbase.com/join/58b0607...
KuCoin (Cyrptocurrency Exchange): https://www.kucoin.com/#/?r=E3UhwOQR
Bitfinite (Cryptocurrency): https://www.bitfinite.co/SignUp?Ref_i...
Binance (Cryptocurrency Exchange): https://www.binance.com/?ref=21371115
CoinLoan (Cryptocurrency): https://coinloan.io/?r=4233798135
CapitalExpanse (Cryptocurrency): https://app.capitalexpanse.net/regist...
If you are interested in making a contribution to the channel, please use the following cryptocurrency wallet addresses to send your contributions to:
Ethereum (ETH + All ERC-20 Tokens): 0x95cfF9F30Afe411473D07352da1B2E56d43DDC75
Electroneum: etnjvTx7NPrWeqE1H3Q5A3CQKgC6EH5yeaSQnt9npn3rjeqzMPsHxZ7VZLKK5ojpCLC3KneCsA3xA9tMrEh8eAYR95njw2ZoDw
Bitcoin (BTC): 1F16xLbzmNmp6ifPWUDK5fiaGiaC2VdQet
Litecoin (LTC): LLSsJ5xv3bi98EF5GLxDd1ULAK9iD4SxcX
KuCoin (KCS): 0xb9203c823c6bc6d0e2a7d031bb79e1e14b0188d8
Viuly (VIU): V4516438BA9BE2E6C62307EA5AAFE6C9
---
▶️ DTube
▶️ IPFS