Comedy Open Mic Round 9 - GrumpyCat Protest Song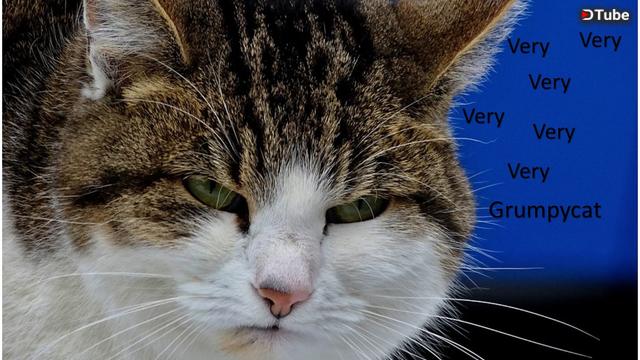 ---
Dear Dtube and Steemit. I wanted to share a song that highlights the suffering and heartache caused by a certain feline of the cantankerous persuasion.

A lot of people have either been effected by, or know someone who has been effected by these issues and I urge you all to come forward and share your stories. It's only by bringing these injustices into the light, that we can finally heal as a community.

Below, are the lyrics to this powerful protest song, which I hope will serve as a warning for future generations, to the dangers of trolls with a massive amount of steem power. Together, we can make steemit great again.

Jah bless.
---

Grumpy cat ohhhhhhh
Grumpy cat…. What are they feeding you?

You choose to shit on people who…. Don't agree with what you do
Flagging girls and boys who have no choice, but to bot it up to have a voice.

Ohhhhhhhhhhhhhhhhhhhhhhhhh
Grumpy cat, grumpy cat…. What is eating you?

You've made a mess on the mat, you're obviously not their favorite cat….
It stinks like shit when you attack, someone who's just a stupid sprat.
Why not square up to the lot, upme buildawhale or bluebot
The problem is with whales delegating for profit
Instead of supporting individual and community offerings
So, bullying whales just like you, telling us minnows what to do
Can go fuck yourself in the face,
cause you're Nothing but a waste of space.

Ohhhhhhhhhhhhhhhhhhhhhhhhhhhhhhhhhhh
Grumpy cat, grumpy cat……. What are you feeding us.
Very very very very very grumpy cat…. It's not your fault.

You patronise and condescend, but act like a troll in the end
I really hope you make a friend….. it's not your fault.
No, madpuppy doesn't count, imaginary friends are not allowed.
And if you flag me you will find, I haven't used a bidbot
In quite some time. So choke on your hypocrisy
Or drown in mediocrity. Why not write something meaningful,
More than your memes and half assed fucking lol's.
And stop throwing Shit bombs at tiny fish,
that you want to eat upon your dish

Ohhhhhhhhh Grumpy cat, grumpy cat…. What are they feeding you?
Very very very very very grumpy cat…. It's not your fault.



N.B. This song is loosely based upon the famous 'smelly cat' popularized by the series 'Friends'.

The pictures used are all creative commons licence and the lyrics are my own creation.
I nominate @carlgnash + @evecab.

---

If you would like to join a fantastic community where we strive to help new steemians grow and develop, why not join me at #promo-mentors discord group which you can find here. I am one of the poetry/fiction mentors over at #promo-mentors, if you have any questions or need any guidance with either of these tags please don't hesitate to ask for me, @raj808.
---



Join us @steemitbloggers
Animation By @zord189


---
▶️ DTube
▶️ IPFS