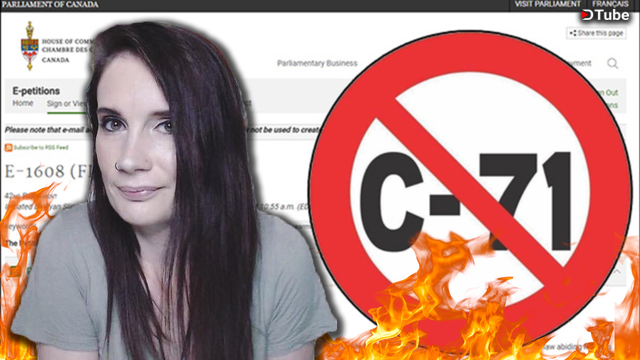 ---
Law abiding gun owners in Canada will have their hands tied if Bill C-71 passes!
They can expect an overhaul of the background check system, new record-keeping requirements for retailers and further restrictions on transporting a firearm. This does nothing to minimize gang violence because criminals don't follow the rules!
In this video
Leigh Stuart of Press For Truth breaks down the liberals plan to turn Bill C-71 into law and how it will only hinder law abiding gun owners from being able to protect themselves and their families.
Support independent media:
Patreon ➜ http://www.patreon.com/PressForTruth
Patreon Alternative ➜ https://pressfortruth.ca/donate
Paypal ➜ https://www.paypal.me/PressforTruth
Cryptocurrencies:
Bitcoin ➜ 13oNiHUNGn9vdfv7MT5kjwe7np9bwf5ccv
Ethereum ➜ 0xEce2AEf1F26373a00BDC7243d1201a98578CC67e
Bitcoin Cash ➜ 1MxgFpQdMujLYRTkSTw4PGDmL99s83PFKR
Dash ➜ XirLdVdyaW9rXvhKic78ruc2X39HjNhdTV
EOS ➜ 0x2BBB00605730feA136623CA366979705293DA659
Litecoin ➜ LVVaVCfNN25AuU1Ex2s4tX2Ze3iCig2kRo
ARK ➜ ALLDoYdZTSo2G79Rn9RizzAes2bLwK2VVx
Lisk ➜ 6851060122493388407L
Verge ➜ DGx3kPjZmiYpsZfEePjEpT6sStsNXS1vK2
Reddcoin ➜ RkMCsv5mtMpKaQZRuQFE5fzadse2G2DNfp
Nano ➜xrb_3rc4uthr5ahyxxzhu1riihcmudiefr4qxzpoq9tq3brbaqpxe6wn8twzb3pq
Cardano ➜ DdzFFzCqrhsrGjJqD8F8NuPvhevcDkonwv3UfGwWxveZ5QQZ9ujtjmXpGxhrSXFa3AsxK94qdi8w2pq289FLqhgQVDyuUN3zxwd4g5M9
QR Codes for all the above cryptos ➜ https://pressfortruth.ca/top-stories/donate-cryptocurrencies/
---
▶️ DTube
▶️ IPFS