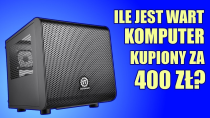 ---
Dzisiaj rozkręcamy okazyjnie kupiony na eBay komputerek - co znajdziemy w środku? Jeżeli podoba Ci się taki format to zapraszam do subskrybcji - już szykuję kolejne!
Lekcja na dziś - kiedy nagrywasz w 30 klatkach na sekundę, a prąd do lampy dochodzi w tempie 50hz to będzie wkurzająco mrygać. Zapamiętać - nagrywać w 25 fps.
Poza tym dobre wieści - dojechał do mnie nowy mikrofon! na tym filmie jeszcze tego nie słychać ale już pracuję nad kolejnym w którym zastąpię badziewny mikrofonik w moich słuchawkach pamiętających jeszcze piękne czasy liceum na Behringera Ultravoice XM8500 - jeżeli uda mi się go poprawnie skonfigurować to poprawa będzie wyraźnie słyszalna.
FACEBOOK: https://www.facebook.com/pandemicum
STEEMIT: https://steemit.com/@pandemicum
TWITTER: https://twitter.com/Pandemicum
INSTAGRAM: https://www.instagram.com/pandemicum.official
Music By
Andrew Applepie - Secrets -