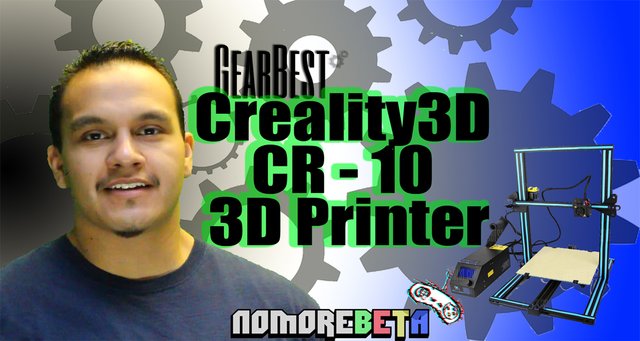 ---
Good news everyone! No More Beta just got their first 3D printer and we wanted to give everyone a chance to see how easy it is to set up and to get up and running. I personally am very excited to have a chance to use this printer, specially since I love 3D modeling and am a CAD guy myself.
The Creality CR-10 has quickly become the go to 3D printer of choice for those who want to get into the 3D printing hobby but don't want to break the bank. It's ease of use and set up really pave the way for novices like myself to get introduced into the world of 3D printing. Join me AB as I start my journey with the Creality CR-10, affordable doesn't always mean good but with this printer I have to say it's the best of both worlds.
While I did have some issues with my first print I learned alot about the steps needed for a succesful print and what I should really focus on learning, using Simplify 3D a "slicer" and the importance of paying close attention to detail. This
Buy a Creality CR-10 from GearBest:
US Plug (Blue):https://goo.gl/oeEEFT
US Plug (Yellow):https://goo.gl/wfW8En
EU Plug (Blue): https://goo.gl/Esu3TB
EU Plug (Yellow): https://goo.gl/KsNjMS
Music By: The Glory
Follow Us:
Facebook:
https://www.facebook.com/nomorebeta/
Instagram:
@nomorebeta
https://www.instagram.com/nomorebeta/
Twitter:
@nomorebeta
https://twitter.com/nomorebeta
Pintrest:
https://www.pinterest.com/nomorebeta/
We here at No More Beta are excited to bring you this product review, while we do receive compensation from products sold through the use of our affiliate links, we test each product thoroughly and only give high marks to the very best. We are independently owned and the opinions expressed in this review are entirely our own.
---
► Watch on DTube
► Watch Source (IPFS)