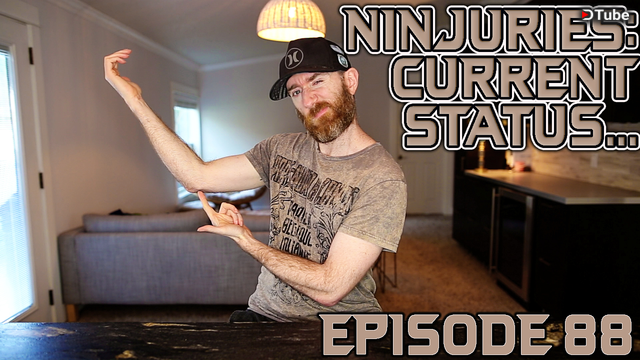 ---
Hi everyone!
Hope you're all well!
I've been training for American Ninja Warrior for a month, but I'm nowhere near training at the level I'd like to be. I've got a few overuse injuries holding me back... so I wanted to share how those injuries have been progressing over the last month... and what I'm doing to help rehabilitate them.
Overuse injuries can hang around for decades. Sometimes rest works, but most often you have to somehow retrain your body; your muscles, your tendons and your nervous system to believe that it's not under attack. I've had a range of overuse injuries over the years, and I still haven't found the best way to tackle them.
If you remember a few weeks ago, I had gone to a session where they placed stickers on me, that I wore for 3 days, to help rewire my nerves. It seemed promising. Unfortunately I haven't been able to find anyone with that skillset to help me... so I'm going to have to heal myself.
I think my very careful training and nightly stretching and rehab sessions are working... but I don't know for sure.
Thanks for watching!
---
Check out my more detailed post on my blogging account How to train for Ninja Warrior or my website Australian Ninja Warrior
---
Join the
@dtubefitness
community today! Everyone is incredibly supportive and extremely generous with their knowledge.

Join the @dtubefitness curation trail so that you too can get regular upvotes and support on your fitness journey:



Check out some detailed info at my EXHAUST page
Join me in testing out EXHAUST!

Australian Ninja Warrior | Australian Ninja Games

---
▶️ DTube
▶️ IPFS