COPS OWNED Over Ignorance of Law! WSP Troopers Ignore Complaints & Confronted With Their Bad Ethics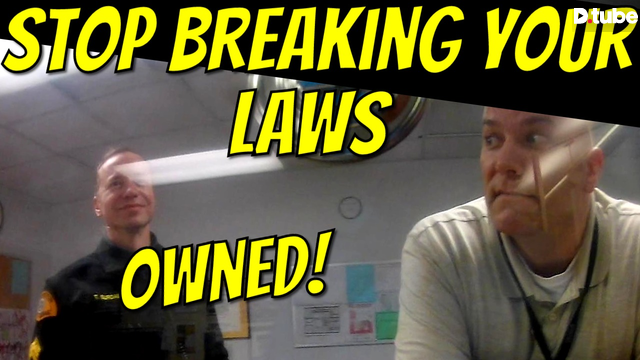 ---
If you are unable to view videos in DTube you can view this video on YouTube or BitChute by clicking the appropriate link below.
VA Hospital Cop Doesn't Like Transparency
I've made repeated attempts to get through to these guys. For over a year and a half I have tried to talk to WSP troopers about their unlawful use of unmarked cars for enforcement patrol cars. They refuse to even listen and like true order followers spew the same predictable responses. Proving yet again there is no such thing as a good cop. They all back their blue line brothers and sisters and the ruling class that bribes them with stolen money. I decided a new tactic was necessary. A little over a month ago I submitted some public records requests with WSP, one of them being a list of all unmarked WSP enforcement vehicles not under cover or for general investigative work. Those are the exemptions for enforcement vehicles listed in RCW 46.08.65. Now I have a list of trooper violating the law. Check out this video to see how they act when confronted with this truth. Please Upvote, ReSteem and Follow!
Links to sources:
WSP public records request documents for Spokane County unmarked - https://drive.google.com/drive/folders/1Fh6T7kXVSRK1jNVo-TB7Q2u0gbTRM8K1?usp=sharing
RCW 46.08.65 - https://app.leg.wa.gov/rcw/default.aspx?cite=46.08.065
Extortion Everywhere videos featured on my channel with WSP;
WSP 1st amendment audit -

WSP Olympia -

WSP Copwatch Everett -

Questionable Authority videos on unmarked vehicles and WSP;
WSP A copwatch story part 3 -

WSP Trooper Cook "That's the car they gave me" -

WSP copwatch Trooper Senger "It's Traffic Control" -
You can support QA for free by downloading and using the Brave browser for free. If you value privacy while browsing the internet then you need Brave!
Find QA everywhere online!
Any materials used are done so under the provisions of the Fair Use Act.
FAIR USE ACT
Fair Use
Copyright Disclaimer Under Section 107 of the Copyright Act 1976, allowance is made for "fair use" for purposes such as criticism, comment, news reporting, teaching, scholarship, and research. Fair use is a use permitted by copyright statute that might otherwise be infringing. Non-profit, educational or personal use tips the balance in favor of fair use.
---
▶️ DTube
▶️ IPFS