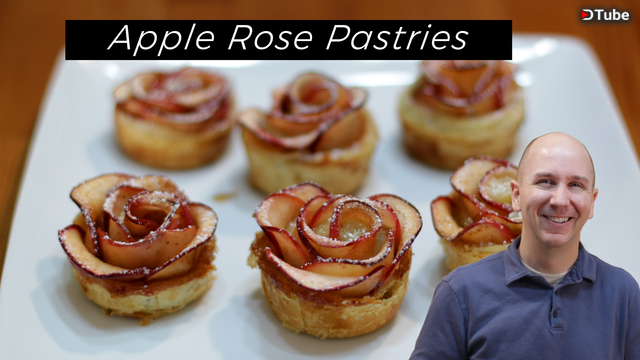 ---
Hello DTube and Steemians!
In this episode of In the Kitchen with Matt I will show you how to make Apple Roses. This apple rose pastry recipe is super easy to make and something different that you can add to your repertoire of desserts and treats. They are sure to impress your family and friends. If you love apple desserts you have got to try these. Next time you want to make some sort of an apple treat make these elegant and tasty apple roses! If I can do it, you can do it, let's get baking! :)
Don't forget to follow me and check out my other posts ! :)
If you have any questions or comments leave them down below and I will get back to you as soon as I can.
Ingredients:
2 cups of water
1 medium to large lemon (halved)
2 Tbsp of brown sugar (30g)
2 Tbsp of white granulated sugar (30g)
1/2 tsp. of ground cinnamon (3g)
1/2 tsp. of ground nutmeg (3g)
2 red apples (red delicious, Pink Lady, gala, etc.)
1 Frozen Puff Pastry Dough (or use homemade)
3 to 4 Tbsp. of apple jelly (or your favorite jelly or jam) (45 to 60g)
Tools:
Citrus juicer (optional)
Knife or mandolin slicer
Apple corer
Bowls
Fork or whisk
Spoon
Basting Brush
Muffin Pan (greased or sprayed with kitchen spray)
You may also watch the video here on YouTube if you like: