How to Make Cinnamon Raisin Bread - Easy Homemade Cinnamon Raisin Bread Recipe (Short Version)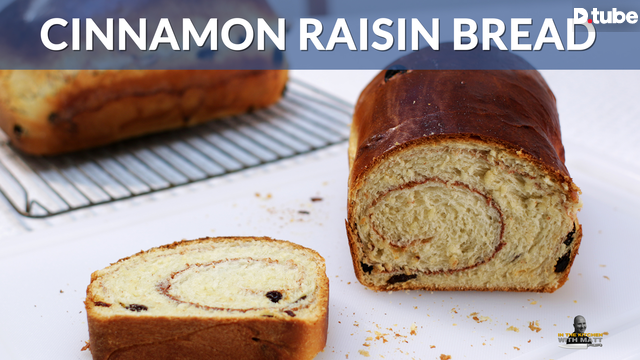 ---
Hello DTube and Steemians!
In this episode of In the Kitchen with Matt, I will show you how to make an Amazing Homemade Cinnamon Raisin Bread. This cinnamon raisin bread recipe is dear to my heart, it is my mom's recipe. When I was a teenager I used to make several small loaves of this cinnamon raisin bread, and then my mom would take them to her work and sell them for me. I used that money that I earned to buy Christmas presents. This recipe is really easy to make, if I can do it, you can do it. Enjoy!
Print out the recipe here on my website: https://inthekitchenwithmatt.com/cinnamon-raisin-bread/homemade-breads-recipes/
Ingredients/Tools:
4 cups of Bread Flour (508 g) (you can use All Purpose flour as well, plus 1/2 cup (63.5 g) to add as needed while kneading)
1/2 cup of butter (melted) (113 g)
1/2 cup of granulated sugar (100 g)
1/2 tsp of salt (2.8 g)
1 large egg
1 and 1/2 cup of milk (360 ml)
2 and 1/4 tsp of active dry yeast (one packet equivalent) (6.4 g)
1 cup of raisins (150 g)
2 Medium Bread Pans
Toppings:
2 Tbsp of sugar (25 g)
2 Tbsp of cinnamon (15 g)
1 egg white
Bake the cinnamon raisin bread at 375 degrees F (190 C) for 30 to 40 minutes until it is nice and brown on the top, and it sounds kind of hallow when you flick/thump the top of it.
Thanks for stopping by!
Matt aka mrchef111
---
▶️ DTube
▶️ IPFS