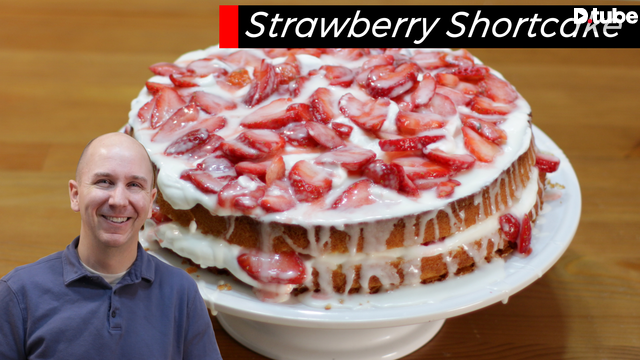 ---
Hello DTube and Steemians!
In this episode of In the Kitchen with Matt, I will show you how to make strawberry shortcake. This homemade strawberry shortcake is easy to make and is sure to impress your friends and family. This is by far my favorite cake of all time! Probably because I love strawberries so much. If I can do it you can do it, let's get baking!
Don't forget to subscribe and check out my other videos! :)
Ingredients:
1 cup of all-purpose flour (120g)
1 tsp. of baking powder (4g)
1/4 tsp. of salt (1g)
3 eggs (separated)
1/8 tsp. of cream of tartar (pinch)
1 1/4 cup of white granulated sugar (250g)
1/2 cup of unsalted butter (softened) (113g)
1 tsp. of vanilla extract (5ml)
1/2 cup of milk (whole milk, 2%, etc.) (120ml)
Strawberry Topping:
1 basket of strawberries (washed and dried) (1 to 1.5 lbs, 300g, doesn't need to be exact)
1 Tbsp of white granulated sugar (12.5g)
Whipped Cream Topping:
1 cup of Heavy Whipping Cream (240ml)
1/4 cup of white granulated sugar (50g)
Glaze: (optional)
2 cups of powdered sugar (220g)
2 to 3 Tbsp of Milk (22 to 33 ml)
1 Tbsp unsalted butter (melted) (15g)
Tools:
Hand Mixer or Stand Mixer
Bowls
Spatula
Whisk
Cake pans or Springform pan
Thanks for stopping by!
Matt aka mrchef111
---
▶️ DTube