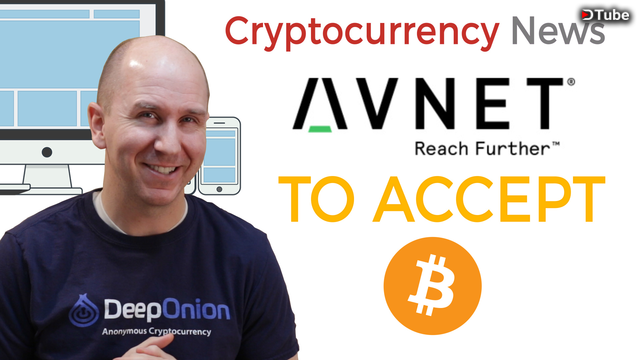 ---
Hello DTube and Steemians!
In this cryptocurrency video I share some 2019 crypto news about the Fortune 500 Company Avnet accepting Bitcoin (BTC) and Bitcoin Cash (BCH) as payment methods. This news is incredible for the crypto market as a whole. Last year 2018, Avnet had 19 Billion dollars in revenue. I personally think as time goes one we will see more and more of this kind of news out there, cryptocurrency will become more and more adopted. I personally don't hold any bitcoin, I hold other cryptocurrencies though.
Find the article here: https://cointelegraph.com/news/fortune-500-company-avnet-works-with-bitbay-to-add-bitcoin-bitcoin-cash-payment-option
Thanks for watching, drop a comment down below and let me know what you think about this news and what companies you would like to see adding cryptocurrency as a payment method.
You may also watch the video here on YouTube: