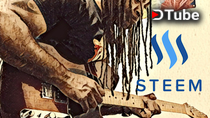 ---
Hey everyone!! At my Music School in SoCal USA working on a bridge for one of my songs.
It's a blend of Blues/Rock Jazz and Funk. The changes are:
B-7/E B-7 Cadd9
I love blending Funk with everything, but my style is somewhat all over the place :-)
My early guitar tuition came from my cousin who only played Heavy Metal - there was a lot of Judas Priest and Scorpions if I remember correctly.
Before I began playing guitar, though, I listened to a lot of Stax, Motown, and James Brown.
So, needless to say, I ended up mixing all of that together.
Later, other influences were added like horn players. I mentioned in a previous post how much I love horn players - their phrasing is different than most guitarists, and I'm really drawn to that. Here are some horn players to check out that were pretty inspiring to me:
Miles Davis
John Coltrane
Eric Dolphy
Rahsaan Roland Kirk
I mentioned the guitarists who influenced me before as well, I keep getting new followers, so bear with me: 😊
Roger Troutman
Jimi Hendrix
Albert King
Scott Henderson
Jason Becker
In addition to them, I also like Jef Lee Johnson, Stevie Salas, Linc Chamberland, Yngwie Malmsteen, Charlie Singleton and Charlie Hunter.
I also get a lot of inspiration from drummers like:
Dennis Chambers
Lenny White
Whether you are in the creative arts or not, you usually take the best bits from your heroes/mentors and try to carry it higher - to another point.
I believe that's what we all strive for.
"Carring the Torch" we call it
Thanks for watching!!! 😊
✳️Resteem✳️Like✳️Comment✳️Upvote✳️
TIPS
PayPal:
https://www.paypal.me/melbookermusic
Dash Me here:
XumiBVvqab4fKYCHXAaFnsXXgJAtgCzort
BCH:
15Mg1H54suSaoLKDcDzrEz82Gzo8rjSwK2
LTC:
La3ar2mAtH7Xt2J7NjDogDF9QF3SdgvpfJ
ZEC:
t1cR6b1F3cDm2vrSbhfSTYWeC4KW5M7EPFZ
ETH:
0x888481a9f0c271152d74f838b7493ef872726e92
EOS:
0x888481a9f0c271152d74f838b7493ef872726e92
---
▶️ DTube
▶️ IPFS