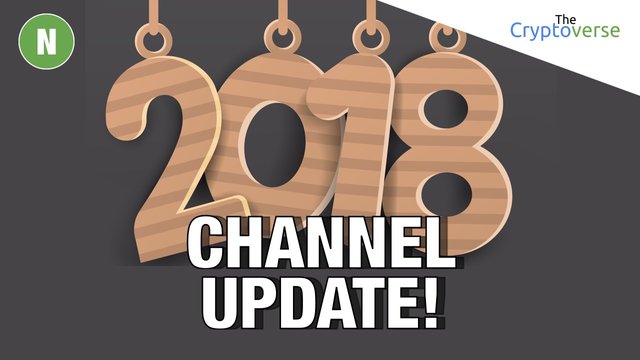 ---
Today's episode is brought you to by Vaultoro the one of a kind online exchange for Gold and Bitcoin: https://www.vaultoro.com/?a=100678
I actually make an effort not to blow my own trumpet.
I don't have a perfect track record in this regard but trust when me I say I put effort into holding my tongue often when I feel like explicitly pointing out something good about myself or what I do.
The reason I do that is become I don't want to be seen as arrogant. Again, im not perfect and even arrogance slips through from time to time, but I still think it's important to give yourself credit where it is due.
So on this occasion I'm going to point out that I started doing this in April of 2016, so coming up to 2 years now.
That was when many other crypto podcasts and crypto YouTube channels were just a twinkle in their creators eye.
https://letstalkbitcoin.com/
When I started The Cryptoverse there was only really Let's Talk Bitcoin and maybe a couple of other shows.
Suffice to say I'm an OG relatively speaking.
That proves that I did not get into this for the money, because back then there was no money in it. I sunk money into this for more than a year before it generated any revenue.
https://www.youtube.com/
Now you have channels starting and becoming profitable within months.
https://coinmarketcap.com/charts/
That's what happened in 2017. There was an explosion in the cryptocurrency market and a similar sized explosion in the number of podcasts and YouTube channels creating content.
Remember by that time I'd already been busting my arse for a year creating content and losing thousands of pounds in the process to keep it going, and I did that because I had a mission and a purpose.
So when I saw brand new channels appearing featuring hosts with little to no experience in any discipline like computer science, economics or philosophy, and those channels quickly overtaking mine in terms of views and subscribers, that's when my ego kicked in.
Long story short, this is when I decided to go from the podcasting show format, where I just talk over my screen, and which I used to get rave reviews for, to using a camera and showing my face.
I did this because I thought this was why my channel was lagging behind all these newcomers.
That is when I made a critical mistake, I turned my attention away from what made my channel great, the content, and turned it towards the channel metrics.
https://www.youtube.com/c/TheCryptoverse
What's dumb about that is I can't affect the numbers by focusing on them.
The number of subscribers and the number of views is a side effect of putting out good content.
So by forgetting to make the content the number 1 priority, that actually stifled the numbers and manifested the exact opposite of what I intended.
Meanwhile these other channels just put out good content and saw the grow of their channels skyrocket.
I'm thinking particularly about the Crypto Investor channel
https://www.youtube.com/channel/UCTKyJALgd09WxZBuWVbZzXQ/
Which you can see here was created on 28th August 2017, 4 months ago and has 110,000 subscribers.
Or Boxmining, created the channel on 23rd February 2017 and has 131,000 subscribers.
With respect, it's easy for you to sit there and give me some kind of glib response like "the numbers don't matter" because by the time Boxmining came along, I'd already been been busting my arse creating content for a year.
Don't get me wrong here, I'm not taking anything away from these guys. I'm actually saying it's the quality of their content that has been the source of their success.
And those two guys in particular did have some pre-existing expertise before they started their channel, Boxmining in terms of computer game production and Crypto Investor in terms of stock trading.
https://www.youtube.com/c/TheCryptoverse
But what I'm really trying to communicate here is the emotional state I got into and how that lead my behaviour in a somewhat dysfunctional direction.
And yes the numbers do matter in the sense that they tell me how many people I am reaching, and that matters when you have a mission and a purpose.
Anyway, what was ironic is that going to all the trouble and expense of setting up a video studio with the green screen, the camera and the lights, it made little the no difference to the numbers and just ended up burning up time I could have otherwise spent making better content.
When I realised that over the xmas break I thought, that's it, I'm going back to what I know works for me.
I'm going back to what made my content great in the first place.
80% of the value that I provide comes from my voice, not my face.
It's critically important as a content creator to know what kind of content creator you are.
I'm not as tall and handsome as Ivon on Tech.
I'm not as charming as Amanda B. Jonson.
And I'm not as cool as Omar Bham.
So I should not try to be, because that just distracts me from doing what no one can beat me at, which is being Chris Coney.
---
▶️ DTube
▶️ IPFS