6 Major Firms Use Ethereum / Coinbase Halts Trading / Japan Salaries In Bitcoin / Trump & Blockchain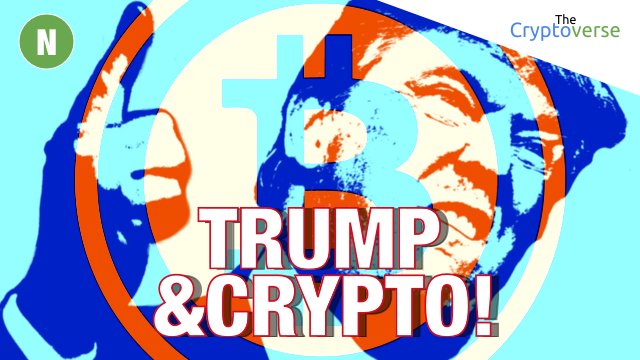 ---
Story - Ethereum Moons on UBS News
Let's begin with the Ethereum chart:
https://www.coinigy.com/main/markets/BITF/ETH/USD
3 all time highs in the last 3 days.
The whole Cryptoverse is now capped at half a trillion dollars. Still tiny tiny compared to the old financial system.
So what shot Ethereum's market cap over $63m?
Well here's one piece of news that came out:
https://www.ubs.com/global/en/about_ubs/about_us/news/news.html.html/en/2017/12/11/news-release-MiFID-II
Most of you have probably heard of UBS they are a global financial services company based in Switzerland.
They provide things like wealth management, asset management, investment banking, private banking, corporate banking etc.
From the 3rd of January 2018, companies will be subjected to a new regulatory reporting standard called MiFID 2.
I find it interesting that this applies to investment intermediaries, meaning it would not apply to peer to peer systems like a decentralised exchange.
If you only read the headline it sounds like amazing news, however that enthusiasm gets dampened by the first paragraph.
It specifically says they are going to run a permission blockchain on Microsoft Azure cloud platform.
Meaning they are going to build their own separate Ethereum based blockchain to run this on.
Meaning they are not going to be buying Ether from the market to pay transaction fees.
They may find it beneficial to make use of the public Ethereum network but that remains to be seen.
They kind of have to take this approach because the public Ethereum network isn't going to scale in time for them to make use of it.
I mean it says they are doing this in order to get in line with 2018 EU regulations so they don't have time to wait for Ethereum to scale.
Story - Coinbase Halts Trading for ETH and LTC
https://www.coindesk.com/coinbase-halts-litecoin-ether-trades-prices-spike/
At the peak GDAX processed $1.8b of LiteCoin trades in a 24 hour period.
I guess that was a bit too much for the Coinbase IT infrastructure to handle so they halted trading.
I know Coinbase keeps cropping up in the news because of the poor performance of its platform and I can imagine how frustrating it is, however we have to get some perspective here.
I don't think these issues are caused by Coinbase slacking.
I think they are doing their level best to upgrade their infrastructure, but every time they do that, the demand for their services increases by another order of magnitude.
Eventually Coinbase hits certain limits on how far it can grow.
It takes time to hire new people, train them and get them setup in customer support centers.
It takes time to setup additional servers and integrate them into their cluster.
Every time they add something they need to make sure they don't break anything they already have, or worse still open up a security hole because they are rushing their upgrades.
Brian Armstrong even says as much in this Medium post from a few days ago in which he cautions everyone about possible outages during times of significant volume:
https://blog.coinbase.com/please-invest-responsibly-an-important-message-from-the-coinbase-team-bf7f13a4b0b1
And it's not just them either, last night I made a failed attempt to do a trade via Changelly because the site either wouldn't load, or when it did load the interface wasn't working properly.
I put that down to them being overwhelmed with traffic as well.
This always leaves me to wonder how many trades are missing from the market.
Like how many orders haven't even been placed because of these technical barriers? Interesting though ay?
Story - Japanese Internet Giant GMO Offers to Pay 4700+ Employees in Bitcoin
https://news.bitcoin.com/japanese-internet-giant-gmo-pay-employees-bitcoin/
They can't take their whole salary in Bitcoin, the minimum if around $88 and the maximum is $881.
Their salary will simply get reduced by the amount of Bitcoin they opt for.
The Bitcoin part of their salary will then be deposited into their GMO Coins account.
GMO Coins is the cryptocurrency exchange that the company owns.
This scheme will start being offered to employees of GMO Internet and then gradually rolled out to the other 42 subsidiary companies that they own.
This is a big piece of the cryptocurrency puzzle, allowing people to be paid in crypto so they can skip the whole process of taking their salary and then buying Bitcoin with it.
Story - Trump Signs Defense Bill Authorizing Blockchain Study
https://www.coindesk.com/trump-signs-defense-bill-authorizing-blockchain-study/
President Trump has signed off on a $700b military spending bill that includes a mandate for a blockchain cybersecurity study. How much of that is for the blockchain study though? Hmmmm….
[orange]
But here is my favourite bit…
[yellow]
Ding ding ding, and there's the opening to put obstacles in the way of blockchain adoption.
5,000 character limit reached
---
▶️ DTube
▶️ IPFS