Review a Featured Dapp/What's Partiko - THE EASIEST WAY EARN CRYPTO.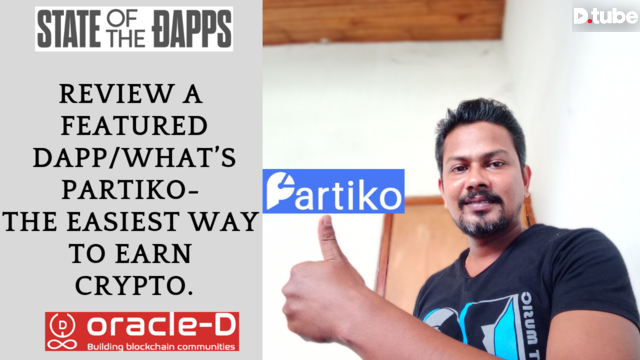 ---
Hello everyone,
Here's my review of most favorite mobile featured Dapp Partiko.
Partiko is a decentralized social media platform built up based on steem blockchain. It's very easy to use mobile Dapp. Partiko users can earn rewards creating contents and upvote/ comment. This is a user friendly media community.
How to get started using the Partiko
You need to steem account, get started with Partiko.
Once your Steemit account is created, You need to download partiko app from your android or iOS mobile devices through Google play store or iOS store. After installed you can put your steem name and then you can provide your steem username and private posting key. Finally you will reach Steem account.
Main components of the Partiko
Partiko users can earn patiko points via your upvotes/ comments and create contents.
You can earn more partiko points, invite friends using your referral link.
The user interface is simple and elegant. Interface creating nice passions to stay long time in steem blockchain through Partiko DApp.
Private chat & private message service.
Fast scrolling up and below.
Push notification option.
What kind of things I like of Partiko.
Users can earn points with more activities on Partiko App.
User can feel much faster steem surf service.
Claim rewards option perfect for increase wallet rewards.
Super easily create contents from user's smart mobile keyboard.
My Conclusion about Partiko.
Partiko mobile Dapp is super faster than other mobile Dapps. I can very easily use it since any kind of places with some low access internet. User can earn more points with their higher activities. Partiko provided awesome features and pretty nice interface indeed. It's brilliant for our eyes.
I give 5 stars rating for Partiko because it's increase my steem activities and rewards.
Check out Partiko:
Partiko website: https://partiko.app/
Steemit : https://steemit.com/@partiko
Discord Support: https://discordapp.com/invite/N7Et97G
Twitter: https://twitter.com/PartikoTeam
Thanks for watching. If you want to join with this please read rules and guidelines via below link before your participation.
https://steemit.com/dapp/@dapplovers/review-a-featured-dapp-and-earn-rewards-ft-state-of-the-dapps
You can watch video on my YouTube Channel.