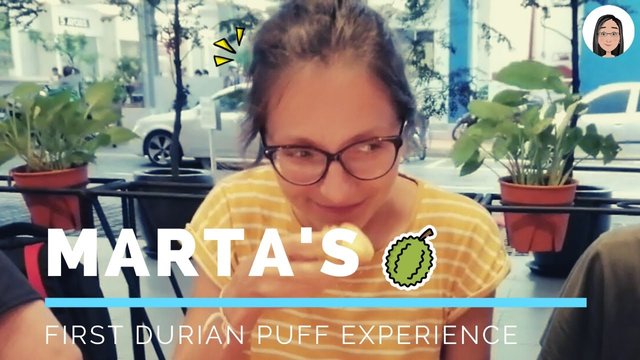 ---
https://www.youtube.com/watch?v=iH2qco6tOaI
Each person has each preferences
And especially when it comes to Durian, this truly isn't an one size fits all "delicacy"
Thanks to @jpphotography 's invitation, Marta was able to overcome uncertainties and took a bold step to try blended durian flesh in puffs.
---
This Durian Puffs has been pretty much well known in the Petaling Jaya area for its unique pastry cream puff turned to durian puffs sensation.
The filling is 100% blended durian flesh; and it is made fresh every morning and chilled before pumping into the baked puffs.
Some people like to request it filled with hot baked puffs or even heated it in the oven; but to have the best experience with least horror (for first timers or not-so-fan-based durian eaters) this is the way to go.
I remembered when it first launched those durian fillings will burst in your mouth. Perhaps after a short while of customer feedbacks, they scaled down a notch and just enough for everyone young and old to enjoy
(too bad I can't pack this over to Bangkok. No durian is allowed on the plane 😂)
It also serves durian ice-cream for about 1 USD.
Where can you find this Durian Puff?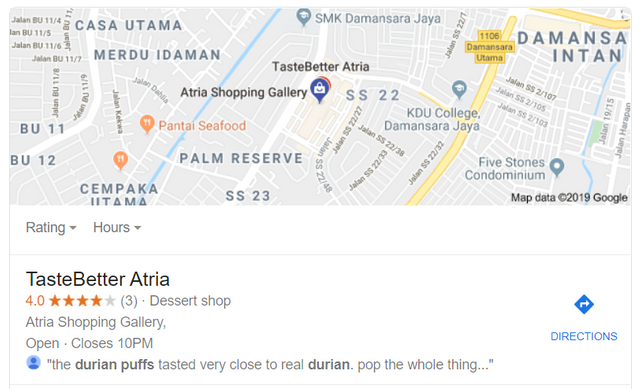 you can click on the map image to get this location
---
She has tried the ice-cream before; so now we are upping a step for her before the ultimate DURIAN challenge with @redpalestino, also a fellow German who ADORES durian later.
This is also Marta's first "mukbang" and she did it very well! 👍🏼
If you like this video / want us to film her reaction with the real durian, don't forget to give a thumbs-up! 😆
This brave challenge was accompanied by #teammalaysia family @khimgoh, @davidke20, @bitrocker2020 (with his voice at the background), @buzz.lightyear and @kimzwarch.
Hopefully this post and video will bring some smiles for all of you too for the #makemesmile movement started by @elizacheng
Until then
Thank You for Your Time

If you like my channel, do subscribe to see more video updates from me, especially the upcoming Steemfest and also the Christmas Production


---